This is a YouTube video player. Below the video are the title, view time and description. Below that is a carousel of video thumbnails. Clicking a thumbnail will load and play that video.
It's 16 August. Perhaps 1735. We are in Venice, amongst a crowd celebrating the feast day of Saint Roch; a festival held in recognition of the saint's role in bringing an end to the plague of 1576, almost 150 years earlier.

We watch on as state dignitaries and ambassadors proceed out of the dark recesses of the church of San Rocco (the Italian for Saint Roch), where mass has just been held. The men carry nosegays, fragrant flowers used to mask and ward off stench. These act as a tribute to those lost in the plague, since for many centuries people believed that contagions were spread by noxious odours, known as miasmas.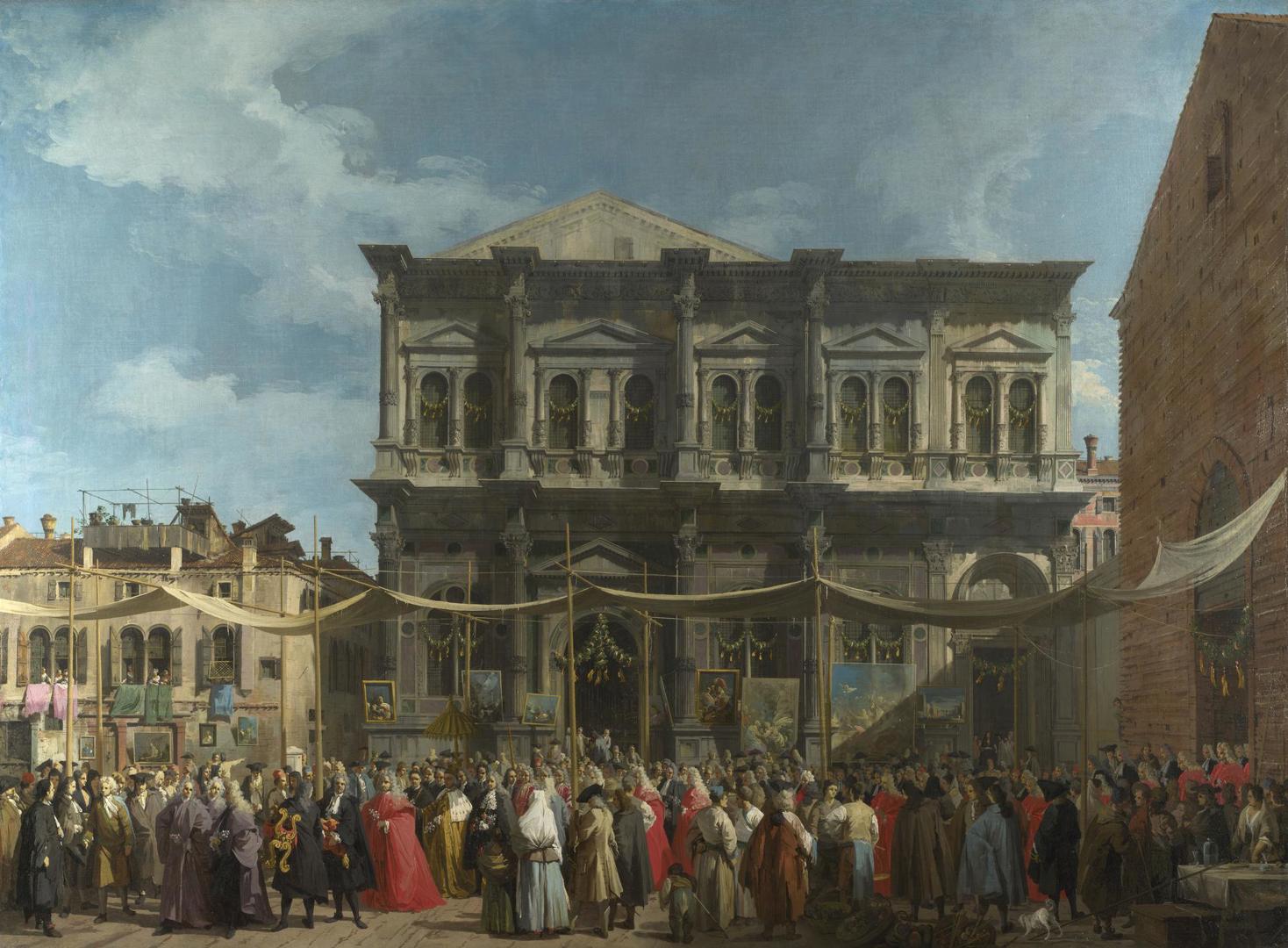 The Doge himself is here, wearing a ceremonial robe of golden fabric lined with ermine silk, a cap and 'rensa' (a white linen head-cloth). To his left is the French ambassador, in sumptuous black finery and white powdered wig, and to his right, a representative of the papal embassy. Ahead, the Grand Chancellor wears scarlet robes.
The comfort of these dignitaries is attended to. A canopy has been erected to keep the sun off; two servants carry an upholstered chair and a cushion, while a large parasol is held over the Doge. It's not just the wealthy here, though. In the midst of the crowd is a beggar in a ragged brown cloak and a small boy, perhaps thinking about pickpocketing. Close by, two traders from the Near East stand in white robes, having temporarily abandoned their baskets of vegetables, as the procession passes by.
But we are not just here to people watch. An art exhibition is on display for public enjoyment and prospective buyers. Below the garlands of flowers that festoon the building in the centre, the Scuola Grande di San Rocco, hang paintings by both Old Masters and contemporary painters. There even appears to be a view of the Grand Canal by Canaletto on the far right.
In our own time, we might reflect on how we, as individuals, might mark the end of lockdown life after Covid19. Will we, like the people of Canaletto's Venice, choose to turn to paintings and art exhibitions, as a way of paying tribute to lives lost or to reflect back on this time? Or perhaps you choose to plan for meaningful changes in your life? While we cannot say when street festivities will feel safe and appropriate again where you live, perhaps you dream of the day you can hug a loved one, rejoin the gym, or have those belated birthday drinks with friends: milestones to be celebrated, indeed.
Who was Saint Roch?
Saint Roch, a Franciscan monk in the 1300s, was said to have performed many miracles of healing. He devoted his life to care and caught the plague while ministering to the sick in Italy.

Saint Roch became the patron saint of Venice, and the church and Scuola Grande di San Rocco (one of Venice's most important religious and charitable organisations) were dedicated to him after the plague in 1576.

Today, Venetians continue to hold a procession on St Roch's feast day, and many still pray to the saint to heal those in need. The global humanitarian charity, the Red Cross is named after Saint Roch, in tribute to the saint's distinctive cross-shaped birthmark.