This is a YouTube video player. Below the video are the title, view time and description. Below that is a carousel of video thumbnails. Clicking a thumbnail will load and play that video.
A lone figure strides across an open plain, buffeted by gusts of wind.
Darkness is falling, and the stage looks set for a wild and stormy evening ahead. Yet, there is sun awhile. Shafts of light rake across the landscape in the foreground, glinting upon the ruins of an old building. Overhead, storm clouds gather.
Bundled in warm clothes, the man's coat blows to one side in the wind, as a gale threatens to veer him off path. Is he a solitary nightwalker? A farm worker heading out to the animal pen, faintly visible in the middle distance, or heading home, somewhere far off?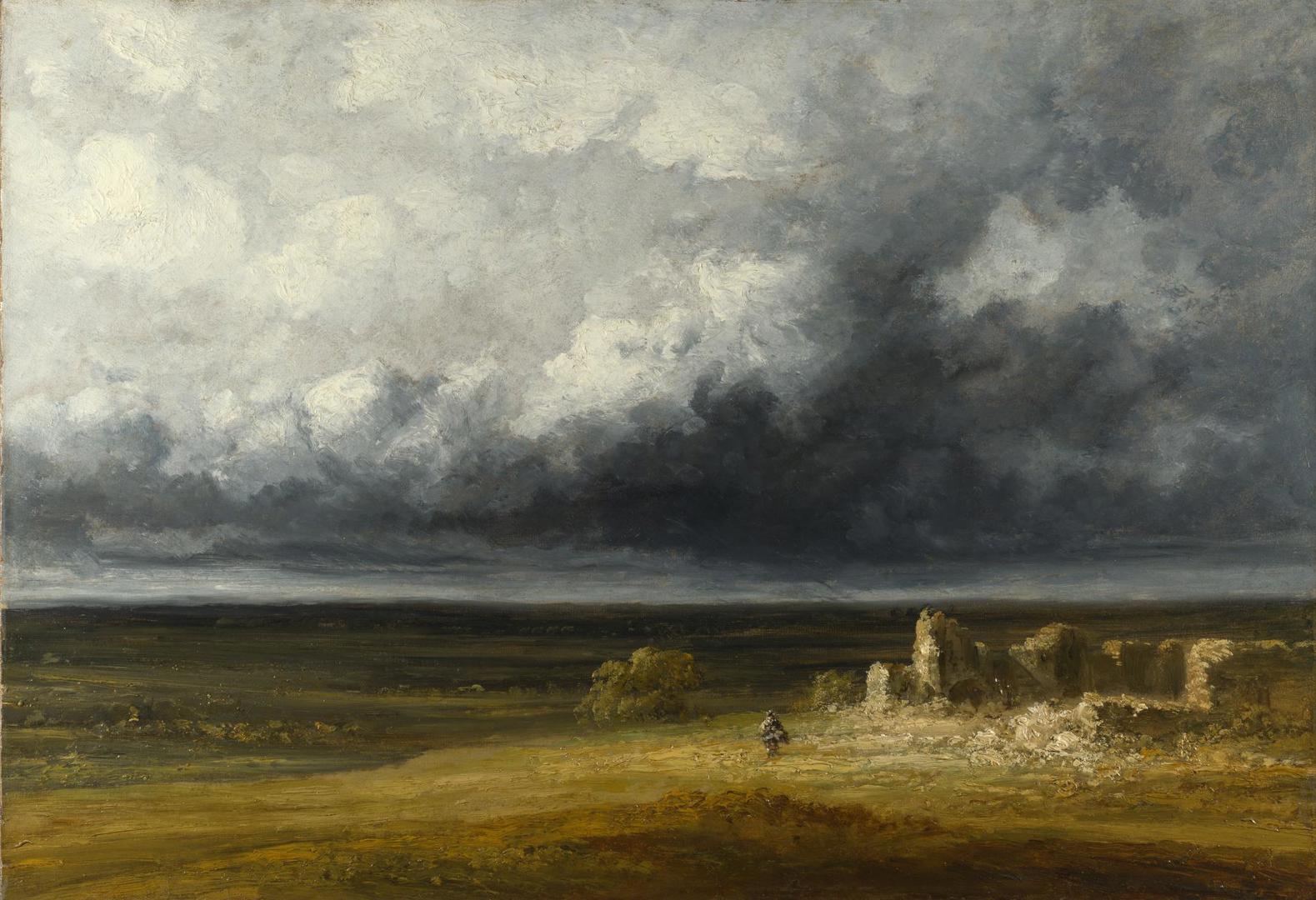 As we peer into the gloom of this painting, with its broad brushstrokes and brisk application of oil paint, nothing is crisp and defined, allowing our imaginations to come into play, conjuring stories, or transforming bushes into strange creatures. 
We might imagine former inhabitants haunting the ruins of the old hall, castle or abbey, cooking at the fireplace or walking the staircase, the remains of which can be dimly picked out.
The ruins bring a melancholy, Romantic touch to this almost visionary landscape. They prompt us to think about memory and the passage of time and themes such as death, decay and the transience of life. The dark clouds seem symbolic of pensive thoughts as well being a careful observation of light and atmosphere.
In 1873, Michel's biographer, Alfred Sensier, described his later paintings as 'flat and monotone plains, black and sterile hills, hovels, putrid ponds, horrible ruins, miserable habitations, skies in fury, meteorological apparitions, frightening calms and glacial silences.'
Michel's great passion was Dutch landscape paintings, having admired them at the Louvre, where he had worked as a picture restorer. He also took inspiration from nature itself, sketching outdoors, capturing fleeting effects of light and weather. Here, the effects of rain are marked by delicate turpentine washes and the direction of the wind is suggested by the lines left by a coarse brush across the surface of the canvas.
Michel is thought to have sketched almost exclusively, in the outskirts of Paris, including Montmartre and the plains of Saint-Denis, working his drawings up into paintings, back in his studio. He was a forerunner of the Barbizon School of painters, who in turn influenced the French Impressionists.
Michel never signed his works, and he had several imitators, so it is hard to know for certain if this work is really by him. Currently, our experts attribute it as 'probably' by him.