Poplar trees quiver in a light breeze, silhouetted against a blue summer sky, their reflections shimmering in the river below.
Working from his floating studio – a flat-bottomed boat, fitted with slots to hold canvasses steady, borrowed from the artist Gustave Caillebotte, Monet painted this work, along with 22 others of poplars, on the river Epte, near Limetz-Villez, about two miles from his house in Giverny in Northern France.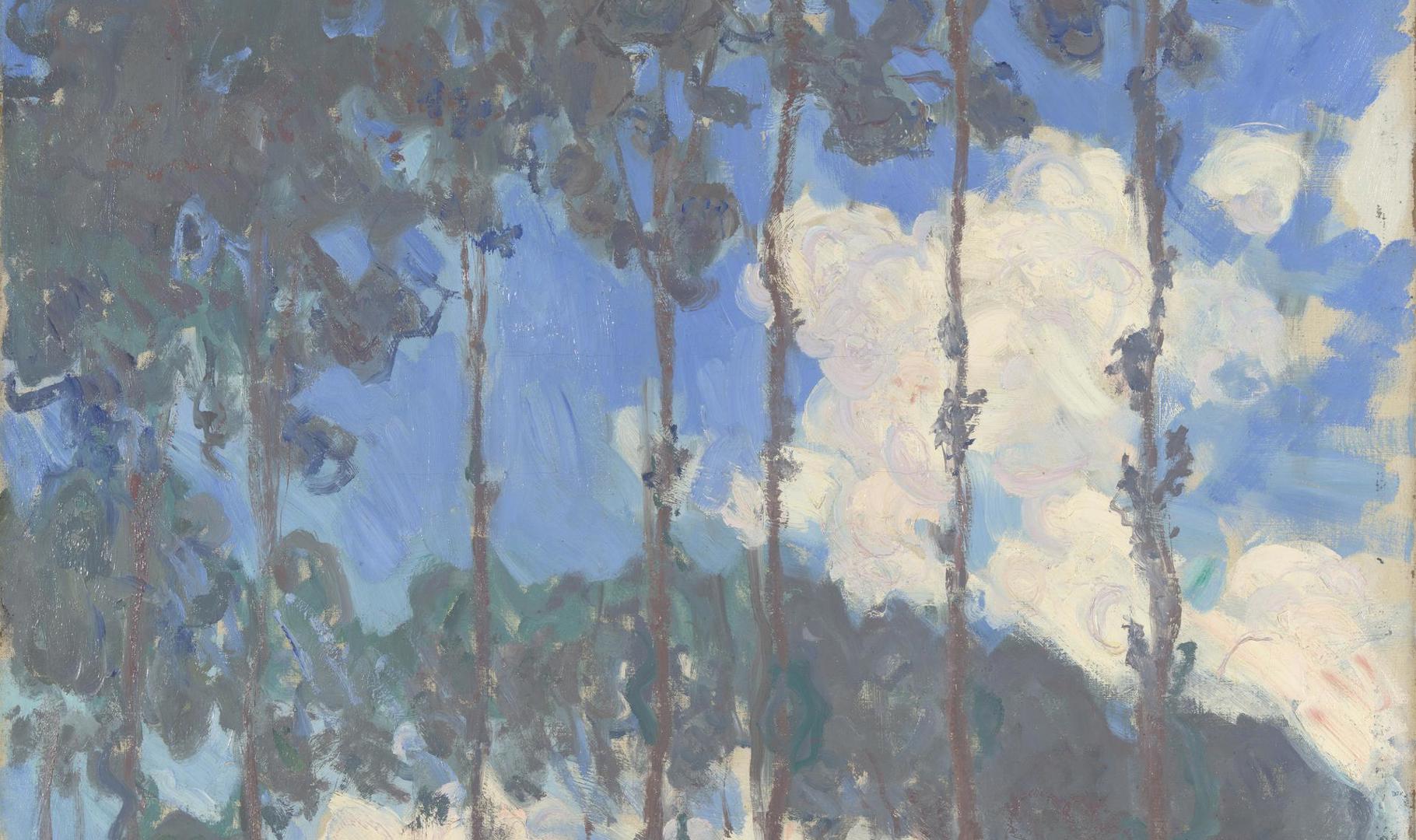 As with his famous series of paintings of haystacks, he painted the poplars along this stretch of the riverbank over and over, at different times of the day and in different weather, sometimes waiting for hours or days for the exact conditions of light and atmosphere that he wished to capture.
Monet was fascinated not only by the effects of light along the river, but also by the compositional patterns, made possible by this view. The slender tree trunks form strong verticals jutting skyward, up to the top of the canvas, with the riverbank forming a horizontal. Further vertical and horizontal lines are created by the reflections of the trees glinting in the water, while the S-curve of trees lining the winding river bank and sweeping arches of foliage move down the canvas from the foreground to the distance. Upon this grid, the effects of colour, light and atmosphere are superimposed. This strong surface pattern is emphasised by vigorous brushwork. 
While working on his poplar series, Monet heard that the trees were being sold at auction, so he made an arrangement with a timber dealer who wanted them for their wood. Monet contributed to the cost of their purchase, on condition that they would be left standing a few more months, until he had finished painting them.
When he exhibited a group of 15 of his 'Poplar' paintings at Durand-Ruel Gallery in Paris in March 1892, it was to great acclaim. A number of the works sold before the show had even opened, and others sold quickly after.
Although this painting is dated 1890, all the others are dated 1891, or are undated. For this reason it's thought that the date 1890 is a mistake, and that it was painted at the same time as the others, and erroneously signed and dated some time later. The inscription appears to be in the handwriting of Monet's old age. According to Blanche Hoschedé-Monet, (who was both Monet's stepdaughter and daughter-in-law as she married his son Jean), it was Monet's favourite version and occupied a place of honour in his studio for several years, until he was persuaded to sell it to a Russian collector.
Learn more about Monet's 'Poplar' series: