This is a YouTube video player. Below the video are the title, view time and description. Below that is a carousel of video thumbnails. Clicking a thumbnail will load and play that video.
"They call me Mme Van Dyck, Mme Rubens" Vigée Le Brun once wrote in a letter.
In this self portrait, we are left in no doubt as to Vigée Le Brun's profession and, indeed, her success.
Fixing us confidently with her gaze and holding her paintbrushes and palette – the tools of her trade – casually, as if they were the most natural accessories in the world, Vigée Le Brun presents herself as an experienced and self-assured artist.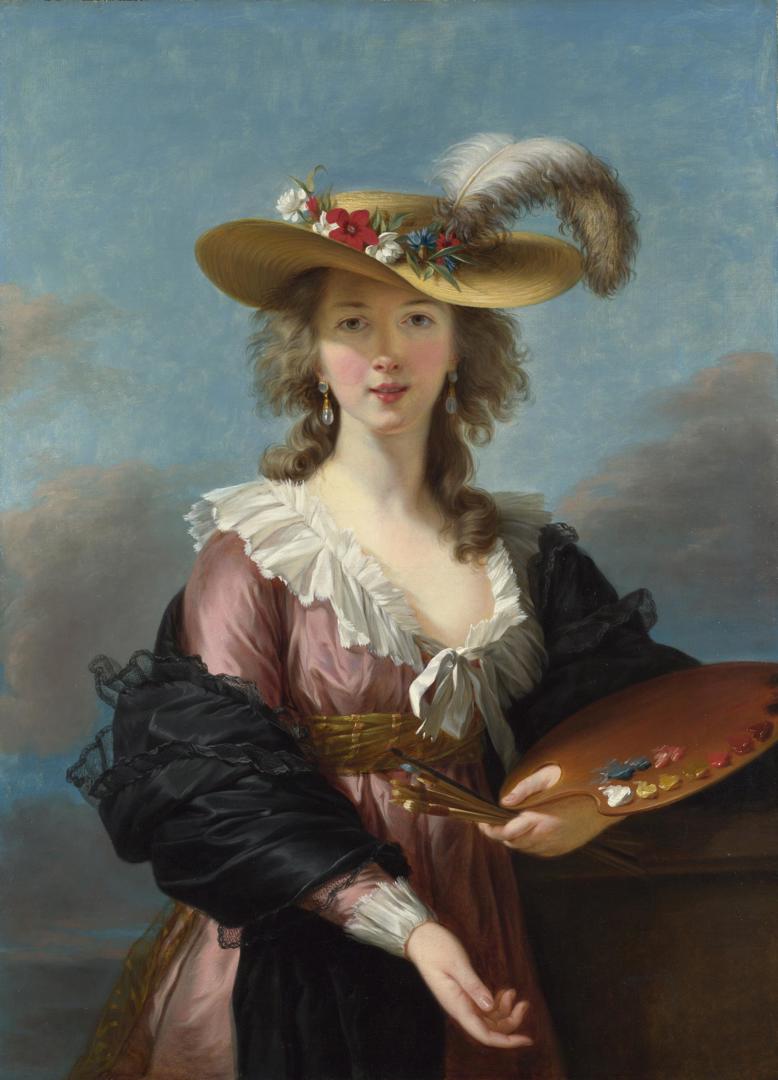 Her expression is one of openness and intimacy. Her eyes engage us unabashed, and her lips are slightly parted in a gesture that is both seductive and seems to put her on the brink of conversation. The rarity of professional female painters at this time adds to the sense of daring in her bold and direct expression.  
Though dressed informally, she shows herself wearing the height of fashion for her day. We see the various textures of her elaborate outfit, from the gauzy black shawl, to the delicate frills of her white chemise and frothy ostrich feather. The fresh flowers in the rim of her straw hat reflect a style made popular by her queen and patron, Marie Antoinette, who loved peasant-inspired dress. Though she would have been expected to wear a wig for a formal portrait, Vigée Le Brun lets us see her own real hair, in keeping with the picture's effect of naturalness.
Vigée Le Brun's self portrait mimics a famous work by Rubens, Portrait of Susanna Lunden (?), which was formerly, but incorrectly known as 'Le Chapeau de Paille' ('The Straw Hat'), despite the fact that the sitter does not wear a straw hat. In her response, Vigée Le Brun not only playfully 'corrects' the Old Master by depicting herself in a straw hat, she also explicitly associates herself with a great artist and his work.
An earlier version of Vigée Le Brun's self portrait made quite a stir in 1782 when it was exhibited at the Salon de la Correspondence in Paris, and in her memoirs she wrote that it played a major role in securing her election to the Académie Royale de Peinture et de Sculpture the following year.
Largely self-taught, Vigée Le Brun became one of the leading portrait painters in France in the years before the Revolution. She lived a fascinating life during one of the most tumultuous periods of European history, travelling widely and courting more than a little scandal. A favourite of court, she left France in 1789 in fear of her life, first travelling to Italy and later Austria, Russia, and Germany before eventually settling back in France.