This is a YouTube video player. Below the video are the title, view time and description. Below that is a carousel of video thumbnails. Clicking a thumbnail will load and play that video.
The 19th-century artist, Willem Koekkoek, painted several views of the town of Oudewater, situated between Utrecht and Gouda, in the Netherlands. 
He specialised in street scenes of local people going about their daily lives. The tranquillity of his scenes invite slow looking to savour small details.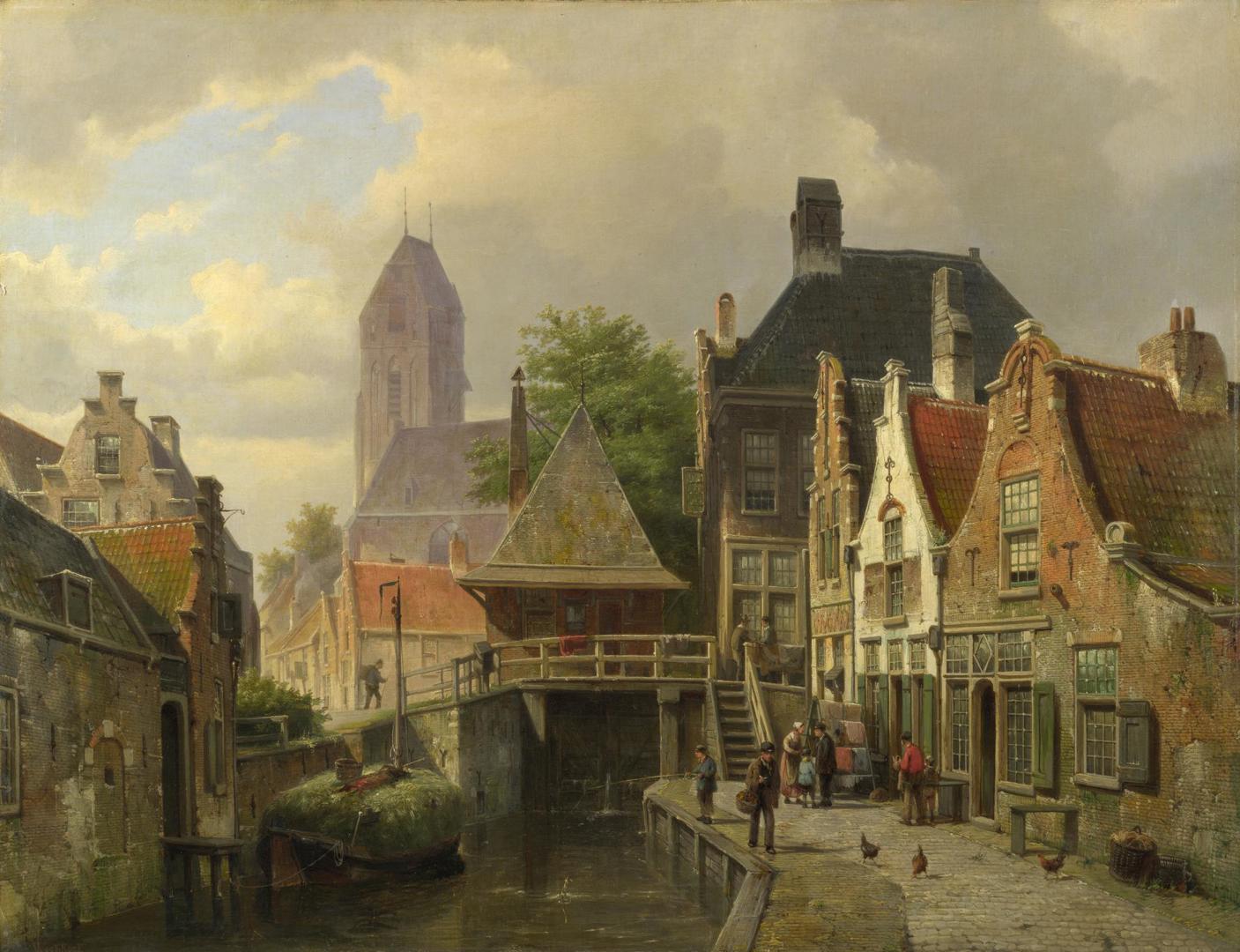 In this view, we are down by the canal lock, where people stroll or stand and chat.
A distant figure, laden with fishing gear, heads across the bridge, perhaps to join the man on the towpath, already fishing with a makeshift rod.
A man wanders home, carrying his basket of shopping, head down, lost in thought, while another, stands by a table, holding a kettle or other vessel, perhaps serving drinks for passers-by.
This painting invites slow looking. The more you look, the more you see.
Sunlight reflects off windows. Hens strut and peck on the cobbles. Washing hangs out to dry. Smoke drifts from a chimney. Through the pane of an open window, we see the green of the trees behind. A barge has been packed with fresh hay. Bricks appear slimy and moss-covered; lichen grows on tiled roofs.
We can enjoy details such as the crumbling brickwork and the different colours and shades of the brickwork and tiles. Or we can become absorbed with tracing the steep rise and fall of the pitched roofs and the elaborate shapes of the gables.
Savouring the details of this painting might point us to the pleasure of paying attention to our own immediate neighbourhood, whether pristine, or as here, a little scruffy and past its heyday.
Is there a peace to be achieved through mindful looking, whether we are walking familiar routes, or simply looking out from our window?