This is a YouTube video player. Below the video are the title, view time and description. Below that is a carousel of video thumbnails. Clicking a thumbnail will load and play that video.
This month Sheyamali Sudesh, artist, author and former National Gallery Young Producer gives her view on Degas's painting of Miss La La. 
In 1879, Degas watched Miss La La, one of the most famous circus performers of his time, slowly hoisted nearly seventy feet into the domed ceiling of the Cirque Fernando in Paris, suspended solely from a rope clenched between her teeth. He attended several of her performances, producing numerous drawings, culminating in this oil painting exhibited at the 4th Impressionist exhibition in April 1879.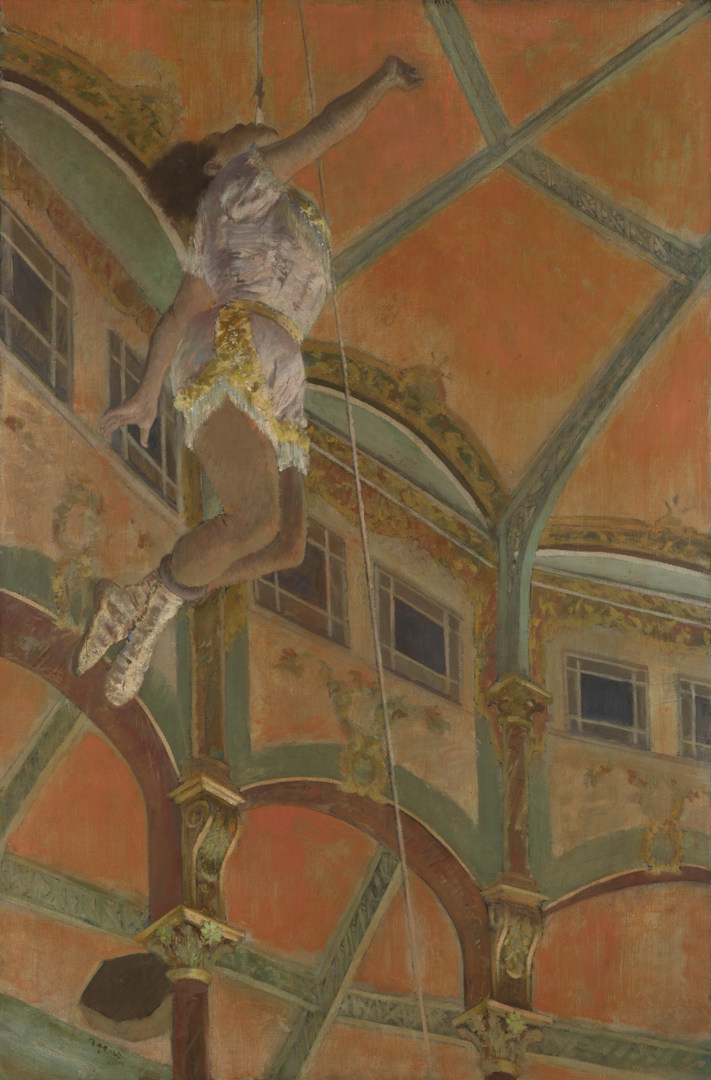 Miss La La was born Olga Kaira, in 1858, in what is today Poland. She was mixed-race and started performing around the age of 8 or 9. She toured around France and England under various stage names such as "The Venus of the Tropics" and the "African Princess" in order to appeal to European ideas of exotic beauty. She had a romantic relationship with her partner performer Theophilia Szterker who tragically fell to her death in 1888.
The painting is certainly intended to impress. The view of the performer from audience level, the inclusion of the domed ceiling and sidewall of the circus catapult the viewer straight into the scene, as we collectively watch a gifted performer present her mesmerising showpiece. However, it is not clear whether Degas aimed to show the world how impressive and talented Miss La La was or simply wanted to demonstrate his own artistic ability.
Miss La La's tights are a pale colour and her face is turned away from the viewer, which disguises the fact that her features are that of a Black woman. And since we don't see her face, we are denied a sense of her personality. Images of the lynching of Black people, occasionally including women, were part of the visual culture of American journalistic illustration in the United States, and in New Orleans, Louisiana where Degas visited family in 1873. Did this painting reflect and even satisfy the demand for racist popular culture?
It is fair to say that many artists paint portraits in order to show off their own skill. But in a period of time where so few Black people or non-Black People of Colour were subjects of empowering portraits it can be unsettling to realise that this painting may yet again be an example of Black people simply serving for the profit of white people.
This month's author
Sheyamali Sudesh is a visual artist and writer of plays and short fiction based in London. She works as an arts education facilitator at galleries such as the Tate and here at the Gallery. Her particular focus is to improve accessibility and create a more equitable environment for People of Colour in the arts. She previously took part in our Young Producers programme.