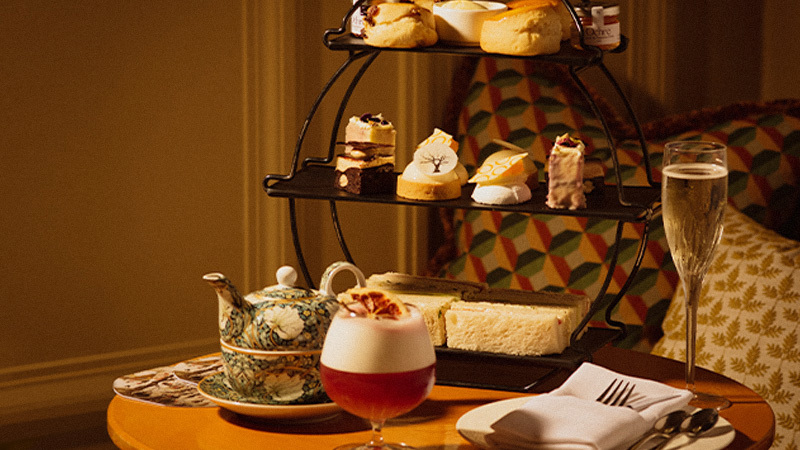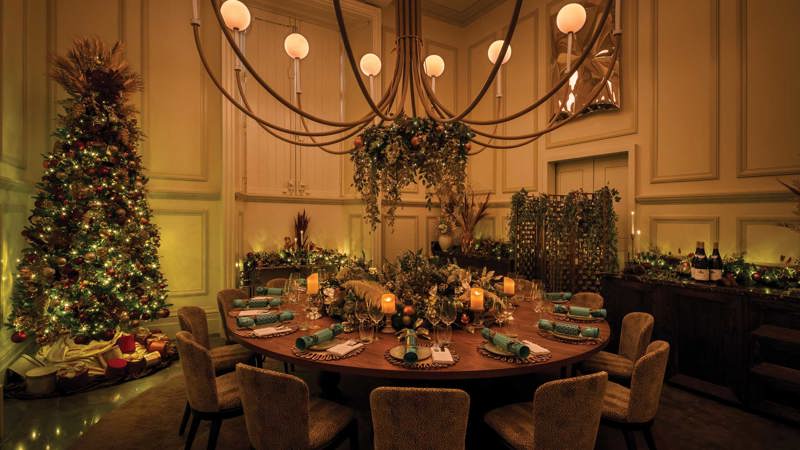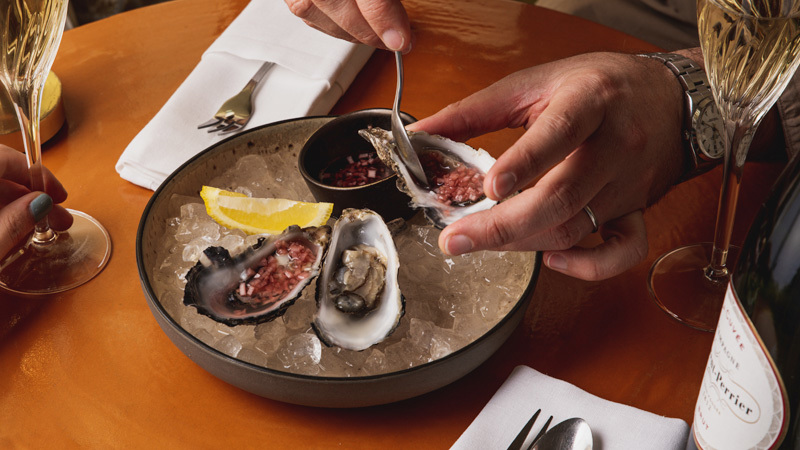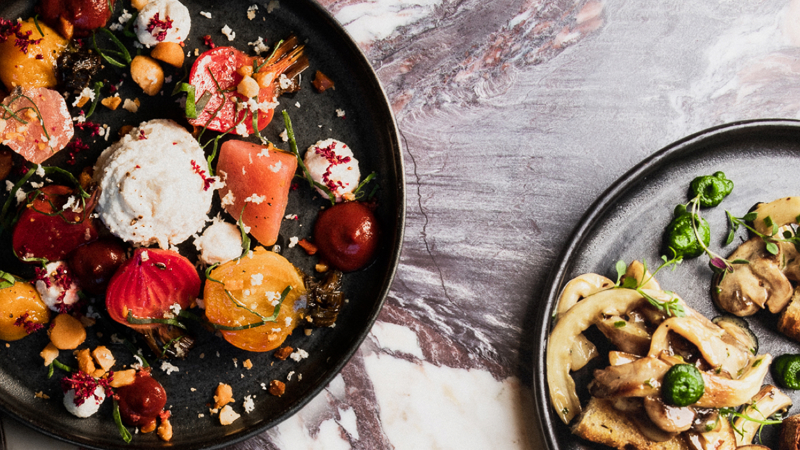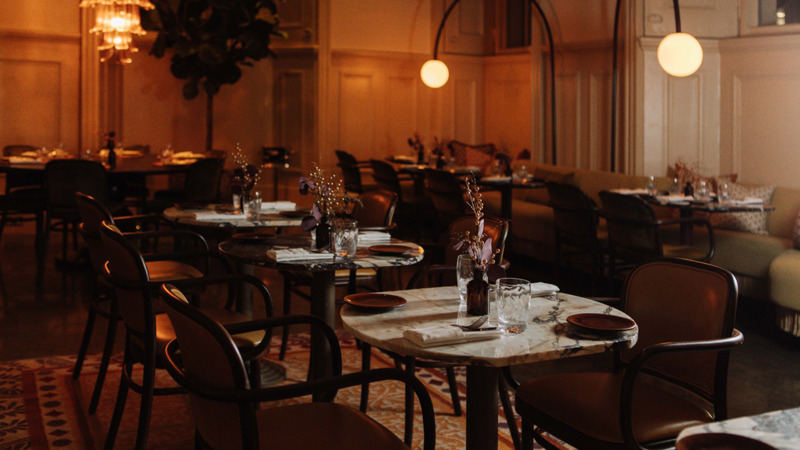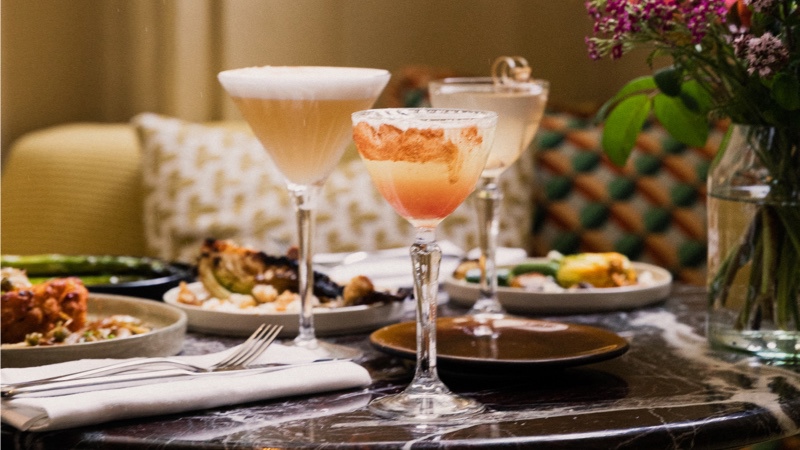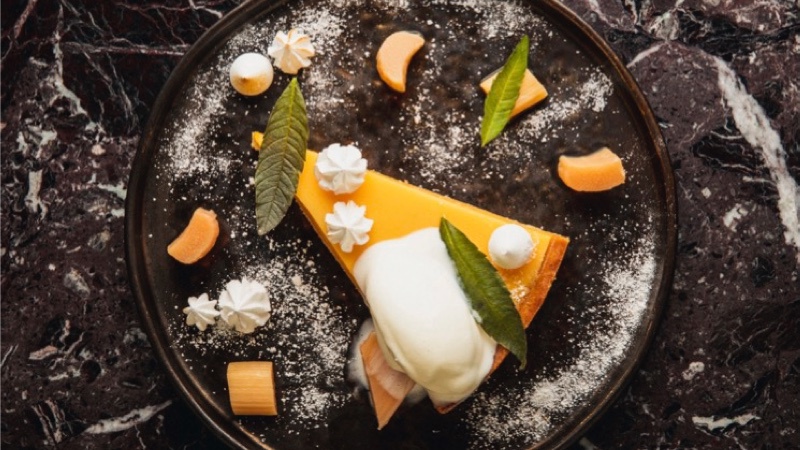 Christmas afternoon tea
Our Christmas afternoon tea is inspired by Avercamp's 'Winter Scene with Skaters Near a Castle'.  17th-century Dutch winters were notorious for their Arctic cold and Avercamp led the way in making pictures of 'life on the ice'.
Our selection includes scones, finger sandwiches, and seasonal pastries and cakes – a tartlet with a white chocolate dome, Dutch butter cake, and chocolate tree garnishes. 
Served daily, 3–5pm
Members receive a 10% discount per Member. 

Find out more and book
Christmas private dining 
Surround yourself in the festive perfection of our private dining room, while indulging in exquisite cuisine and creating cherished memories.
Book the private dining room for any festive events and private parties, we would be delighted to host you
Please email events@ochre.london for more information.
See the Christmas menu or make a reservation. 
Oysters and champagne
Join us for half-priced Oysters and Champagne Happy Hour, available daily from 4pm until sold out!
Enjoy premium Oysters from the UK and Channel Islands from Wright Brothers, the UK's most renowned supplier and our house champagne for a luxurious evening out.
Seasonal British ingredients
Indulge in the tantalising flavours of the UK at Ochre, with a wide range of seasonal food and ingredients grown, farmed, and fished across the country.
We take pride in our partnership with local suppliers, keeping Ochre's carbon footprint to a minimum, protecting the heritage of UK farming, sustainability, and the positive impact on the environment.
Friday Lates
Enhance your National Gallery Friday Lates experience at Ochre. As the Gallery's doors close at 9pm, ours stay open for you to enjoy a range of international flavours with our seasonal menus and cocktails, all set in beautiful interiors.
Book a table at Ochre quoting 'Friday Lates', to get your complimentary glass of bubbles.
Hand-crafted cocktails
Did you know we had a beautiful cocktail lounge as well as a restaurant?
Try one of our hand-crafted cocktails and you won't be disappointed!
Delightful desserts
Finish your meal with one of our selection of desserts that are a feast for the eye and the tastebuds!