In this small and meticulously observed picture, insects crawl and flutter over forget-me-nots and a sprig of hawthorn berries. A cabbage white butterfly perches on the hawthorn leaf, whilst an earwig and rearing caterpillar crawl up the twig. A common blue butterfly rests on one of the juicy red berries. The light effects and the shadows cast give the objects a remarkably lifelike appearance, as if we are observing wriggling specimens.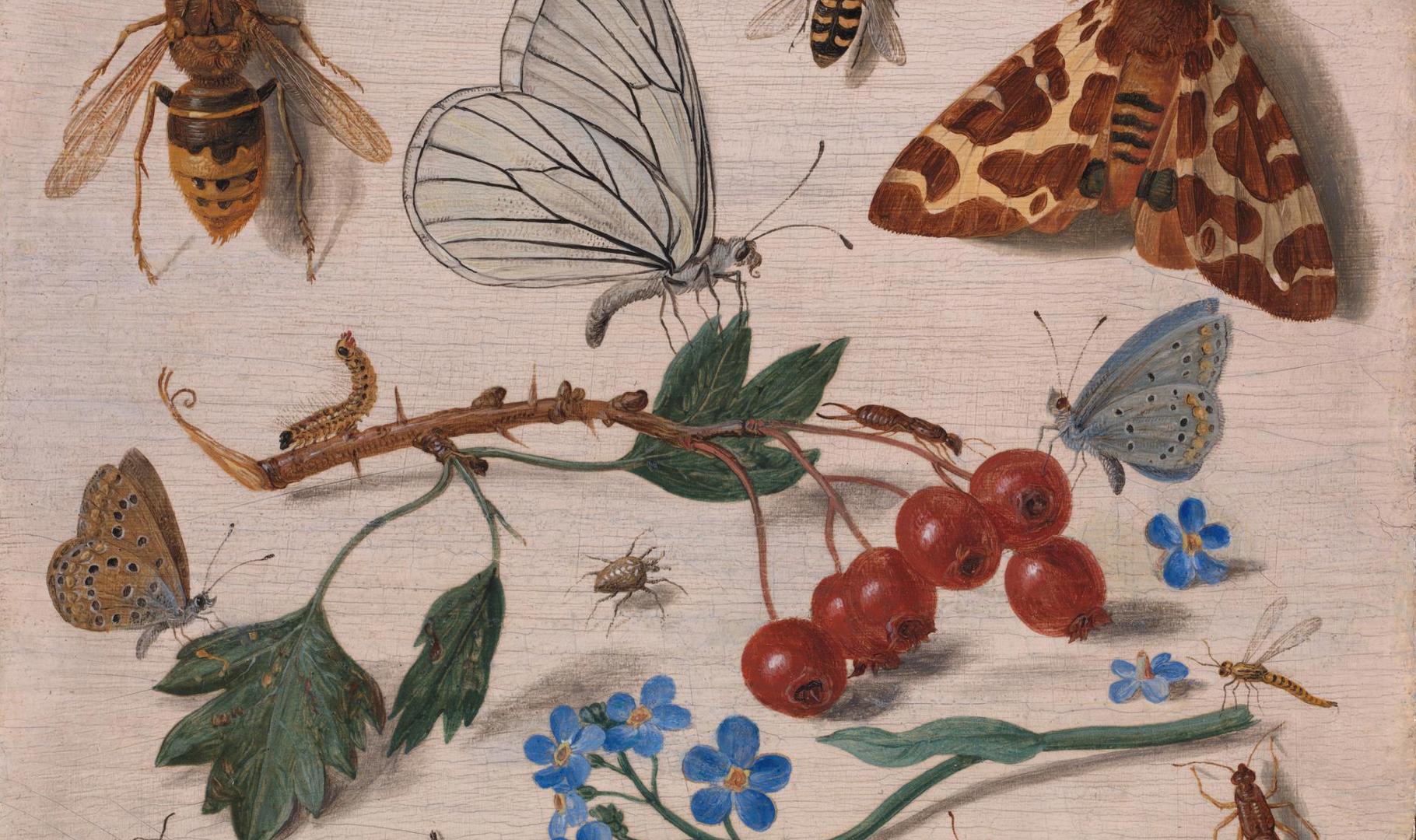 We are reminded of the pinned, natural history specimens collected for 17th-century cabinets of curiosities – collections intended as microcosms of the world, inspiring both awe and academic study. 
The creamy-white background of the wooden panel is painted to look like vellum, creating the suggestion of a display backdrop, and the insects at the top and bottom of the painting are arranged in formal rows: a hornet, a yellow pied hoverfly, a garden tiger moth, two more earwigs, a dung beetle and a firebug.
Tiny still-life paintings such as this often adorned display cabinet drawers and were highly sought after by connoisseurs and princely collectors in the Low Countries, as well as in Spain, the Dutch Republic, France and Germany. 
The artist, Jan van Kessel the Elder, was one of the finest Flemish still-life painters of the 17th century, and a master of artifice. Inspired by the development of the microscope and popular 17th-century pursuits in collecting and studying nature, he shows off his craftsmanship, with minute attention to detail. He also creates an aesthetic arrangement, positioning the specimens pleasingly with size, shape, colour and light in mind.
Van Kessel's educated clientele would have also appreciated the symbolism of his arrangements. They would, for example, have known that forget-me-nots are a reminder of mortality, and a symbol of remembrance, while the metamorphosis of the earthly caterpillar into an ephemeral butterfly, in Christian iconography, represents the triumph of the soul through resurrection.  
Born in Antwerp, van Kessel belonged to a dynasty of famous painters. His grandfather was Jan Brueghel the Elder, and he was taught by his uncle Jan Brueghel the Younger. His father was also an artist. In 1645, he became a Master of the Antwerp Guild of Saint Luke, specialising in small scale, brightly-coloured and minutely detailed botanical and insect studies, such as this picture.
Learn more about the painting with former Young Producer Clara