This is a YouTube video player. Below the video are the title, view time and description. Below that is a carousel of video thumbnails. Clicking a thumbnail will load and play that video.
This painting from the Early Italian Renaissance depicts Christ's baptism in the River Jordan. Christ's cousin, John the Baptist, gently pours water from a bowl onto Christ's head and the Holy Spirit, in the form of a dove, appears hovering overhead.
There is a kind of serene stillness to the figure of Christ, who appears pale and translucent. The angels watching on are reminiscent of the classical statues excavated in the period, which so inspired Renaissance artists.
Piero della Francesca was the first artist to write a treatise on perspective – that is, creating an illusion of three-dimensional space on a flat surface. Here, Piero uses mathematical principles to order his simple design, creating a visually harmonious image, and set it within a landscape familiar to its original viewers, uniting them personally with this moment in the history of Christianity.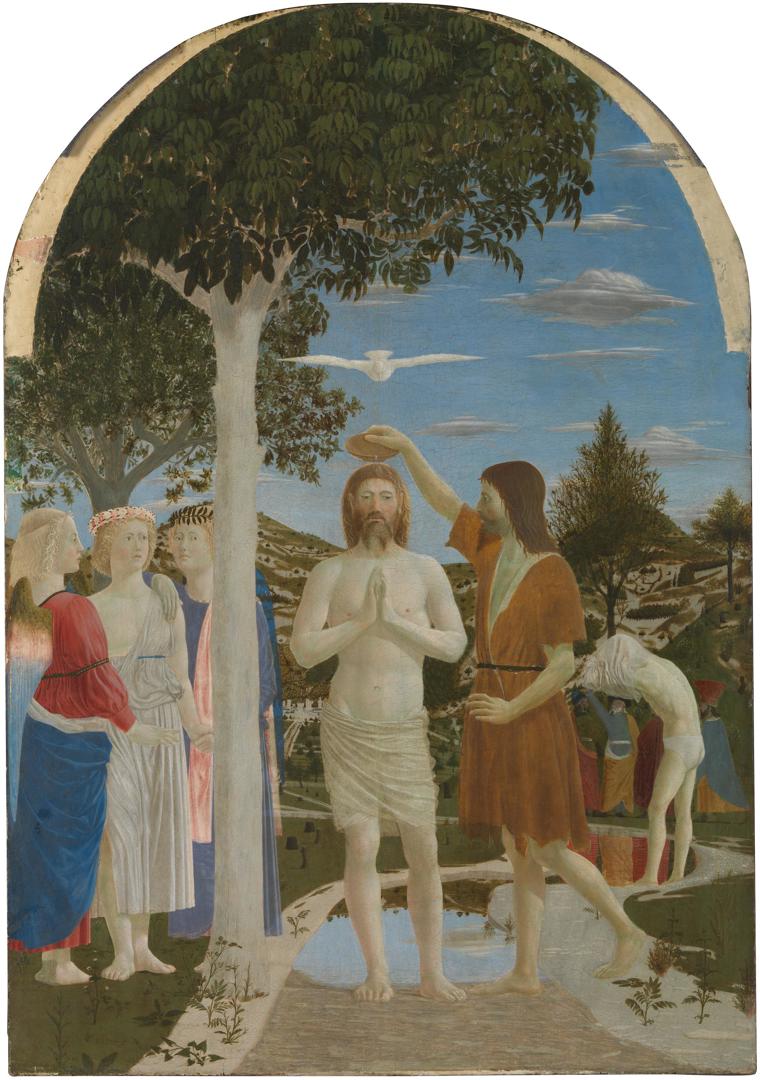 Christ is in the exact centre of the painting, directly under the dove. A line of symmetry leads our eyes to the heavens, running through Christ's hands and body, the bowl and dove. Likewise, there is a horizontal line that divides the painting from the belts of the angels and John the Baptist to the man taking his shirt off in readiness to be baptised.
By continuing the line of the arched top of the painting around through the curved top of Christ's loin cloth, and John's hand and arm, we can draw in our minds a perfect circle, with the dove at the centre.
Piero also confidently shows objects receding into the distance: look at his foreshortening of the dove, the bowl John the Baptist holds and Christ's feet, which appear firmly rooted on the riverbed.
The scene is set in what appears to be a Tuscan valley; possibly representing the landscape around Piero's home town of Sansepolcro. The cool water at Christ's feet is at once the River Jordan and the streams of a Tuscan valley. We see the transition from transparent water in the shadow of the walnut tree to reflective water, in which we see a patchwork of hills.
Above all, it is Piero's cool, clear light that is remarkable. It illuminates everything, defining the simplified forms and the fall of drapery, and unites the figures and the setting in the fresh morning of a new dawn.
Read previous pictures of the month