This is a YouTube video player. Below the video are the title, view time and description. Below that is a carousel of video thumbnails. Clicking a thumbnail will load and play that video.
1 video
Caravaggio's iconic painting tells this biblical story as never before.
Two disciples are on the road from Jerusalem to Emmaus after Jesus' crucifixion. As they walk, they are joined by a stranger, and they travel on together. That evening, when they dine at an inn, the man blesses the bread. It is only then that they recognise him as the resurrected Christ. Rejuvenated, he no longer has a beard and is now clean-shaven.
It is at this moment – the first time any of the disciples have seen Jesus since his burial – that we join the action.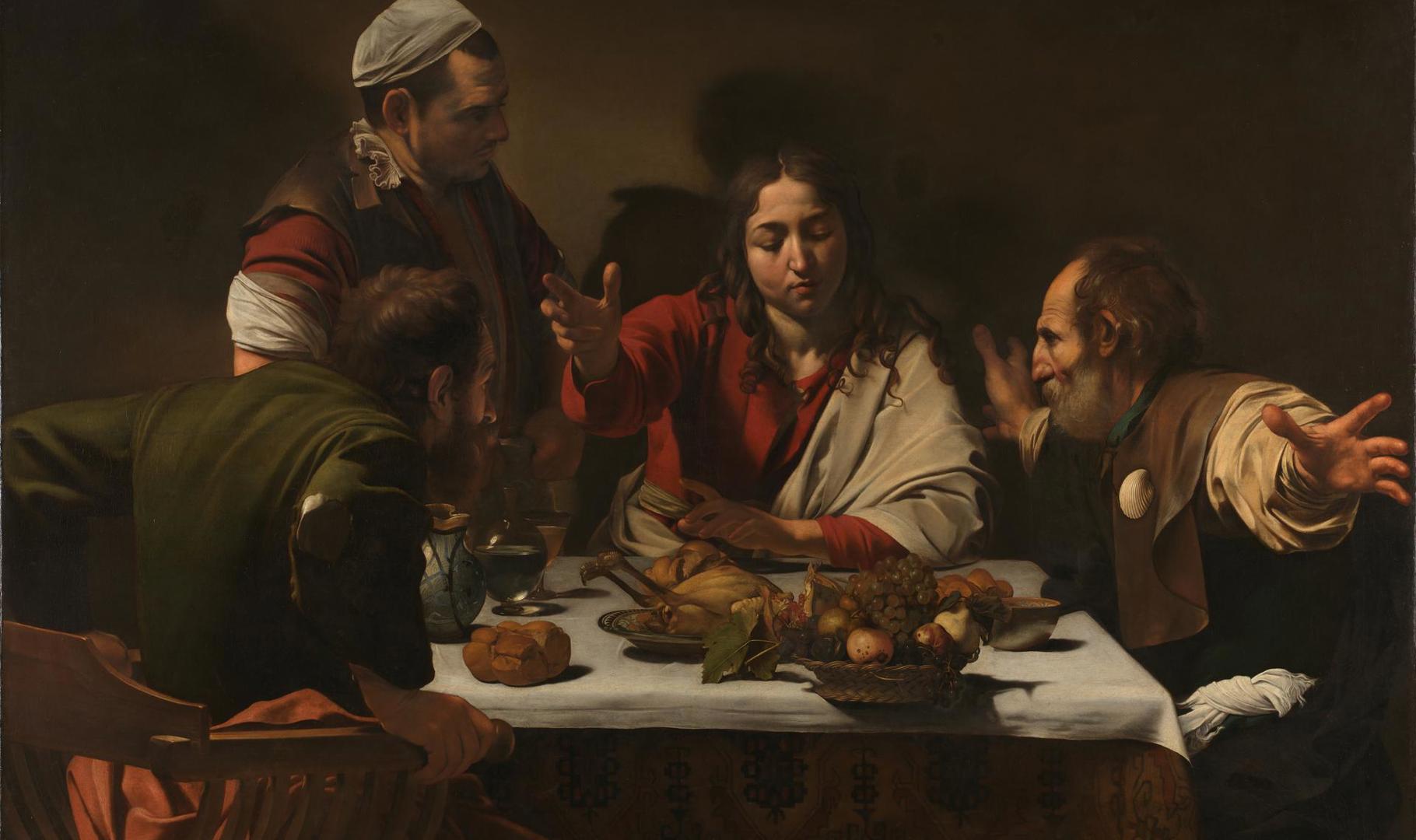 Christ sits serenely centre stage while around him the disciples react with surprise as they realise Jesus' true identity. Freeze-framing the action, Caravaggio paints the man on the left gripping the arms of his chair, wide-eyed in astonishment; while the man on the right flings his arms out wide, his left hand seeming to almost burst out of the painting towards us, while his right hand stretches back into the dark interior.
The innkeeper looks on, unable to grasp the significance of the moment. His quizzical expression seems to ask, 'What's going on here?' The drama is heightened by the light which, like a spotlight, contrasts the action around the table with the deep shadows.
In the 17th-century it was very unusual to show Christ without a beard, halo, stigmata, and other attributes – but this helps us to understand the disciples' surprise and to believe in this drama as if it were unfolding before us. Caravaggio uses foreshortening (an effect of perspective making objects seem to thrust into our space) in order to make us feel as if we too are at the table.
A master of still life, the extreme realism of the objects on the table - the bread's crust, the oily skin of the roasted chicken, the reflections on the glass water carafe and the wine glass – likewise help us to suspend disbelief.
The objects also have symbolic meaning – referring to the Eucharist, bread; white grapes representing water, and red grapes signifying both wine and the wounds that Christ suffered on the cross. A split pomegranate bursting with seeds and juice alludes to Christ's resurrection from the tomb.
The disciples' simple, 17th-century clothes, Jesus' uncustomary appearance, the immediacy and energy of the composition, and Caravaggio's use of light and spatial illusion result in an intense image which epitomises his influential, revolutionary style.