Studying Vermeer's paintings under magnification reveals not only the minute details the artist intended for us to see – the artful workings of his brush – but also the random marks and traces that he unintentionally left behind. These tiny clues may offer rare insight into the day-to-day workings of the artist's studio.
A large number of bristles from hog-hair brushes are embedded in the surface of original paint in all four of these paintings [figs.1–4].
This may be associated with the way in which brushes were made at the time – with bunches of bristles tied on to the handle – and how these might deteriorate with age and vigorous use in broad background areas [ fig.5].1 It may also suggest that his brushes were either of poor quality or very old – or both.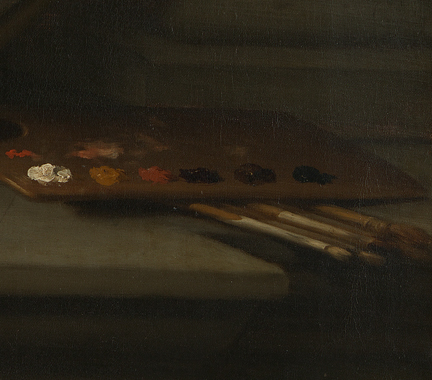 Two fingerprints are impressed in the surface of the original paint along the top edge of The Guitar Player. They were presumably left when someone, perhaps the artist himself, grasped the painting when the paint was not quite dry [ figs.6 & 7].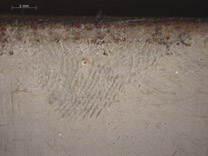 There is also a considerable amount of fluff embedded in the original paint. This might suggest that the paintings were worked on over a long period or that they took a long time to dry. In either case it seems likely that they may have been left lying in the studio for a considerable amount of time [ fig.8].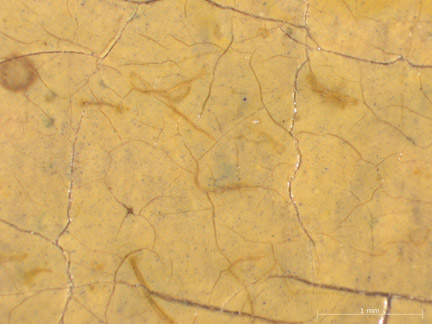 Bristle brush hairs and fluff have also been found embedded in the original paint of several works by Jan van Os, as for example in Fruit, Flowers and a Fish of 1772 [figs.9–11].
Helen Howard is Scientific Officer – Microscopist at the National Gallery. This material was published to coincide with the exhibition Vermeer and Music: The Art of Love and Leisure.
Explore more topics
Original methods and material
Time and transformation
1. See article by R. Harley 'Artist's Brushes – Historical Evidence from the 16th to the 19th Century' in N. Bromelle and P. Smith, eds., 'Conservation and Restoration of Pictorial Art', London 1976, pp. 61–6.