Infrared imaging is used to look through the surface paint to try to reveal earlier stages of the production of paintings. It is especially useful to make images of sketching, or placement marks made by an artist before painting began, known as underdrawing. Unfortunately, it has not been possible to find any underdrawing in the Vermeer paintings examined for this study. Infrared examinations of other works by Vermeer have not revealed underdrawing either. This does not necessarily mean that Vermeer did not begin by drawing on his canvases, there are limits to what can be achieved with the current technology. Vermeer could have made a drawing using a material that does not show in infrared. Some underdrawing is depicted in the work being created in 'The Art of Painting' (Kunsthistorisches Museum, Vienna) which appears to be white paint or chalk, which would not show in infrared examinations.
Changes made to the design during painting can also show in infrared images. In the Royal Collection 'Music Lesson' the man was first painted leaning towards the woman playing [figs.1 & 2].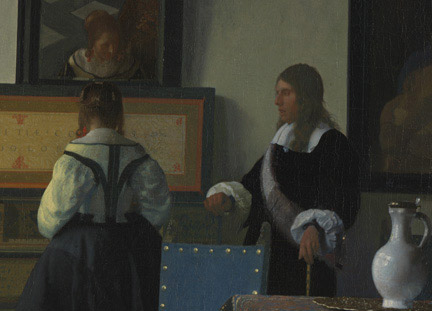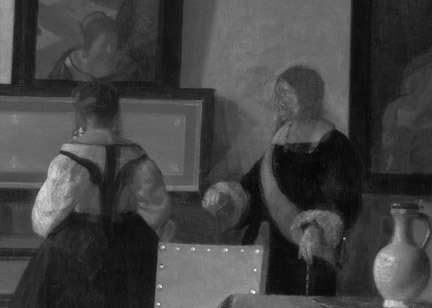 In the National Gallery's Woman seated at a Virginal a dark rectangular shape was painted on the wall against which the virginal is standing. Vermeer probably planned a small framed painting or mirror here, but later decided against it and covered the black paint with wall colour [ figs.3 & 4].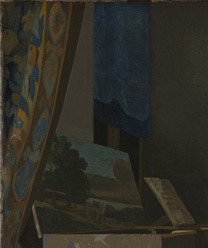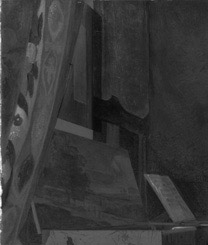 Rachel Billinge is Research Associate in the Conservation department at the National Gallery. This material was published to coincide with the exhibition Vermeer and Music: The Art of Love and Leisure.
Explore more topics
Original methods and material
Time and transformation
Image above: Detail from infrared reflectogram of Johannes Vermeer, 'The Music Lesson', about 1662–3. Lent by Royal Collection Trust on behalf of Her Majesty The Queen. Photo © The National Gallery/courtesy Royal Collection Trust.