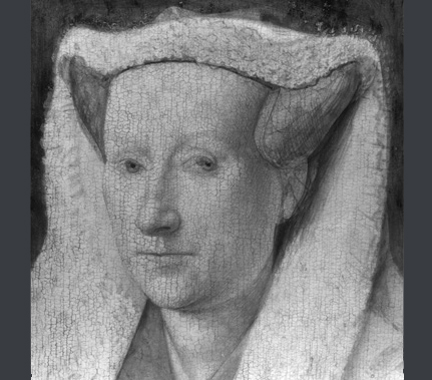 Examination by infrared reflectography has revealed a detailed underdrawing for Margaret's head and headdress. The lower part of the portrait has only a simple outlining, the design of which seems to have been more fully developed at a later stage.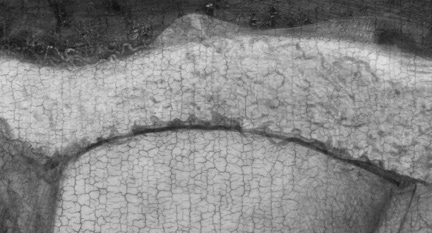 The underdrawing has been executed with a brush and a liquid medium. The lines are sometimes relatively broad and free, for example those that indicate the crimped edges of her headdress, including the marks which suggest that originally the edge of the fabric was to echo the curve of her right cheek.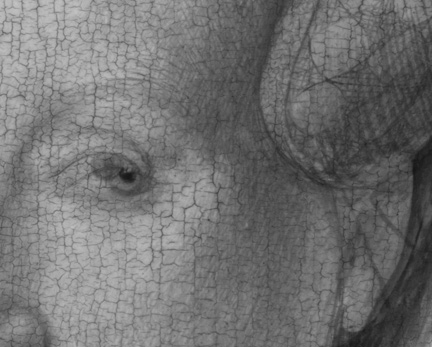 The shadowed side of her face is modelled with very fine closely hatched lines of exceptional delicacy. It is almost as detailed as the shading on Van Eyck's portrait study in metalpoint on paper of a Cardinal, usually identified as Niccolò Albergati (Kupferstich-Kabinett, Staatliche Kunstsammlungen, Dresden).
Van Eyck seems to have made this very elaborate drawing, complete with colour notes, in order to produce the painting, 'Portrait of Cardinal Niccolò Albergati' (Kunsthistorisches Museum, Vienna), when he no longer had access to the sitter.1 Of course, this would not have been the case when executing a portrait of his wife.
As well as the possible change to the edge of the white fabric, there are several differences between the underdrawing and the final painting. The diagonal lines sketched across Margaret's ear imply that it may have been intended to be covered. The 'horns' of coiled hair were also originally shorter and Margaret's eyes, especially her left eye, were drawn in a higher position.
The Arnolfini Portrait
Both in its technique and in the alterations made during painting, the underdrawing in this portrait is strikingly similar to that of the considerably smaller scale head of Arnolfini's wife in The Arnolfini Portrait. In this instance, however, the eyes have been moved up.2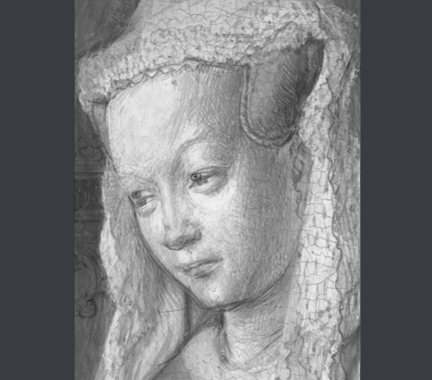 Next: X-rays and pentimenti