Jan van Eyck's celebrated portrait of his wife, Margaret, was painted in 1439 when she was aged 33. It was lent to the National Gallery, London by the Groeningemuseum, Bruges for the Renaissance Faces exhibition (15 October 2008 – 18 January 2009).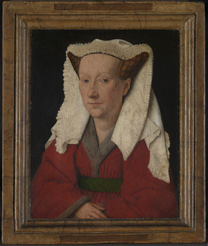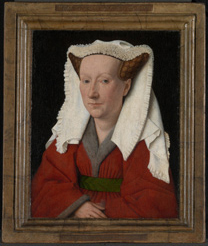 Following the exhibition and at the request of the Groeningemuseum, the painting stayed at the National Gallery for conservation and scientific analysis. At every stage of the treatment, discussions were held with the Groeningemuseum and the curator made frequent visits to London to see progress on the painting.
The cleaning and restoration was carried out by Jill Dunkerton of the Conservation Department. This account of the restoration and the discoveries made during the technical examination has been written by Jill Dunkerton with contributions and research by Rachel Billinge from the Conservation Department and Rachel Morrison and Ashok Roy from the Scientific Department.