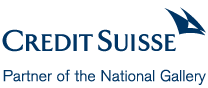 Credit Suisse has a long and distinguished tradition of supporting the arts, working with leading cultural institutions to encourage innovative projects and wider access to theatre, music, and the visual arts. Other sponsorship commitments include the Kunsthaus Zurich, the Bolshoi Theatre, and the Sydney Symphony.
Exhibition sponsorship
The bank is sponsoring Monet and Architecture in 2018. 
Find out more about previous exhibitions sponsored by Credit Suisse. 
Education
Since the beginning of the partnership, the Gallery has collaborated with partner charities of Credit Suisse on a range of projects. These have included a series of photography workshops for young people with Centrepoint, as well as workshops with the Alzheimer's Society, The Place2Be, The Children's Trust, and Credit Suisse partner schools.
In 2015 the Gallery began a collaboration with City Year UK to deliver a bespoke personal and cultural development opportunity for students and City Year UK volunteers at inner city schools. This innovative project is continuing in 2018 working with five schools based in London and the East Midlands.