Date
Brockwell, misinterpreting the inscription on Balthasar's scarf as: MDVII, proposed that NG2790 was dated 1507.130 In fact the letters form part of a longer inscription from the 'Salve Regina' and the picture is not dated. It is presumed to have been painted for the Chapel of the Virgin in the abbey church of Saint Adrian's at Geraardsbergen: the chapel is said to have been built when Jan de Broedere was abbot, therefore between 1506 and 1526. By 1516, Gossart was signing: MALBODIVS and seems thereafter always to have used that form of his name when he signed his paintings, though he continued to sign documents with his full name, Jean Gossart. As NG2790 is signed GOSSART, it may be dated before 1516. The latest of the visual sources used by Gossart in his 'Adoration' are Dürer's 'Saint Eustace', of about 1500, and – possibly – his 'Nativity' engraving of 1504. The earliest derivative composition is perhaps the 'Adoration' now in Cologne Cathedral, by an unidentified follower of Gossart (fig.9).131 It was in 1646 on an altar in the church of the Franciscan convent at Mézières132 and it was probably painted for the convent, founded in 1489 by Philip of Burgundy, Bastard of Nevers. The donors are his wife Marie de Roye, whom he married in 1480 and who died in 1484 or 1488, their daughter Françoise and Philip himself, who became a Franciscan after his wife's death and survived until 1525.133 The portrait of Marie is certainly posthumous. Françoise appears to be about ten (her age in the mid-1490s) and unmarried but the costume of both women is in the fashion of about 1515, the likely date of the painting.134 On all these grounds, NG2790 may be dated between 1506 and 1516.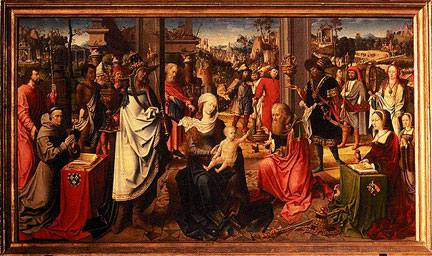 Such a dating is also plausible for stylistic reasons but the precise chronology of Gossart's early paintings is problematic. Waagen found in NG2790 'a most splendid confirmation of my conjecture that this artist, before he went to Italy [in 1508–9], must have executed important works in the pure Flemish style of the school of Van Eyck';135 and many have agreed that in NG2790 there is little indication that Gossart had seen works of art in the classical and contemporary Roman styles. Others, including Friedländer, have argued that it was painted after 1509.136 Friedländer thought that it was very similar to the Malvagna triptych (Palermo)137 and wondered whether Gossart would have been 'able to paint a picture with so many figures and with such perfect illusion of space before he went to Italy'. In fact the rules of perspective are not consistently applied and Gossart must have decided against having a single vanishing point. Presumably he flouted the laws of mathematical perspective because he considered that here they would have produced aesthetically displeasing and disruptive effects.
The Virgin and Child in NG2790 are very similar indeed to the Virgin and Child in the much smaller Malvagna triptych, where the figures of Adam and Eve on the exterior are adapted, in reverse, from Dürer's 'Temptation' (B. 17), probably of 1510, from his 'Small Woodcut Passion', first issued in 1511. The triptych must have been painted in or after 1511. NG2790 was probably also painted at the beginning of the 1510s, before the 'Saint Luke drawing the Virgin' (Prague), which it resembles in many ways but where Gossart affects a more self-conscious desire to evoke antiquity.
Gossart's signed drawing of the 'Mystic Marriage of Saint Catherine' (Copenhagen) is reckoned to precede another signed drawing of 'Augustus and the Sibyl' (Berlin), which, inscribed ANWER, is thought to have been done in Antwerp, before his journey to Rome.138 Both drawings include 'putti' in the antique style, very similar to the babies who swarm across parts of NG2790 and to the cherubs of the Malvagna triptych. Both drawings seem a little less disciplined in technique than the four drawings associated with the Roman journey; but this is scarcely surprising, since the Roman drawings are copies and Gossart had been taken to Rome in order to reproduce the monuments of antiquity. It is difficult to make constructive comparisons between drawings and a painting on the scale on NG2790.
There is no necessity to believe that Gossart's stay in Rome would have affected very profoundly the development of his style. He was interested in contrasts of tone and colour, in dramatic effects of recession, in distortions of perspective and in exotic ornament. He had more in common with Dürer than with his Roman contemporaries.
Further Sections