This is a YouTube video player. Below the video are the title, view time and description. Below that is a carousel of video thumbnails. Clicking a thumbnail will load and play that video.
1 video
This striking painting by 17th-century Dutch artist, Meindert Hobbema, is a master class in perspective.
This striking painting by 17th-century Dutch artist, Meindert Hobbema, is a master class in perspective. 
Geometry underlies the composition. Our eyes are funnelled to the heart of the painting by the central avenue of trees, and the water-filled dikes that border them. The spindly alders form strong verticals that direct our eyes upwards to a vast sky, while the low horizon line emphasises the flatness of the Dutch landscape.
Our gaze is also drawn sideways into the landscape, through the track that turns off to the right (to which the dog seems lured) and the strong lateral lines of the paths and fields on the left.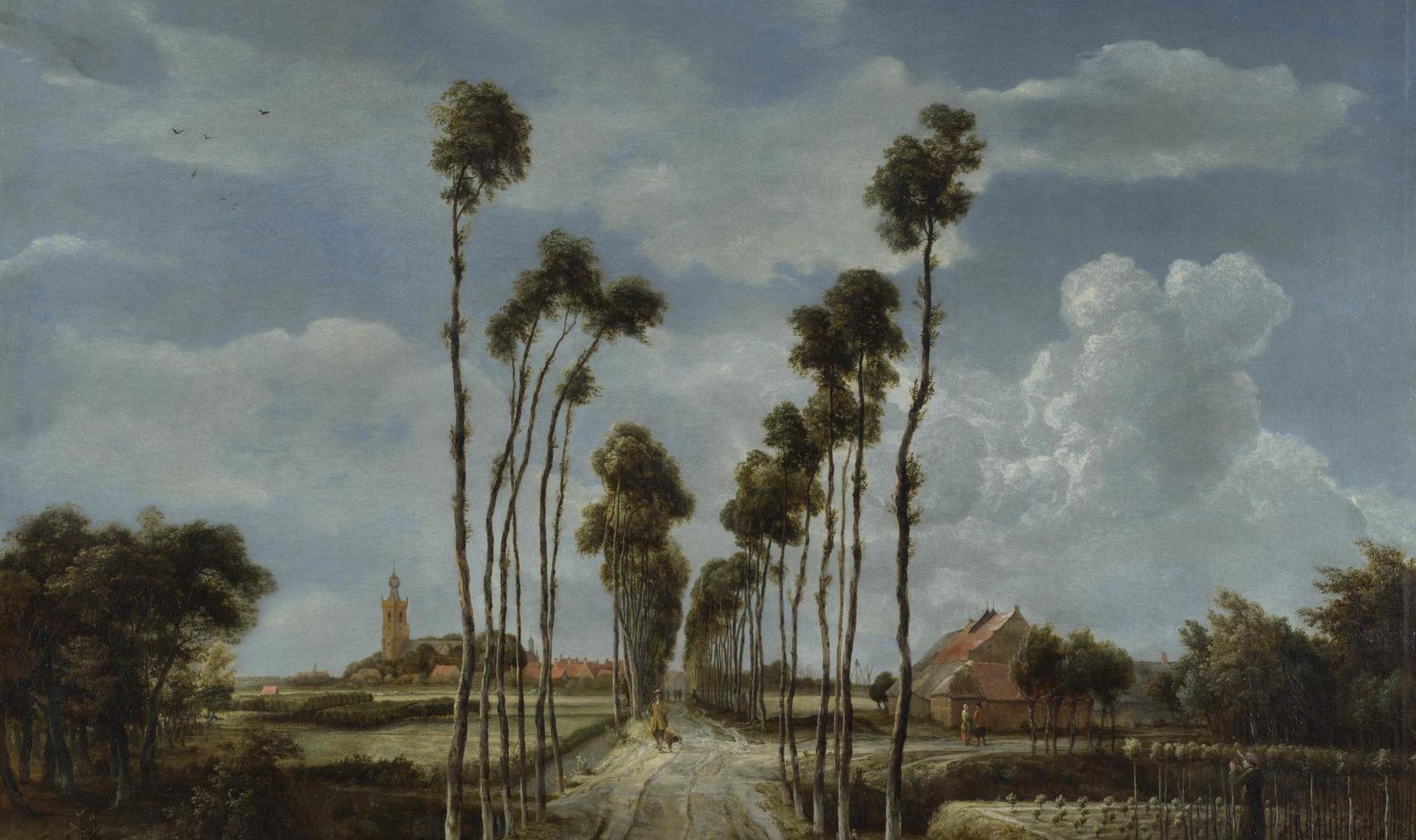 Within this carefully composed grid, are numerous signs of Dutch labour and economy. From the trees 'shredded' of side-branches, ready for felling as poles, to the cart tracks on the dirt road, the ship masts in the distance, and the ditches that carry water to the orchard, where a man is pruning with a knife. Even the wilder, wooded area on the left, holds purpose as a hunting ground. Perhaps the man who walks towards us with his dog, and gun over one shoulder, is headed there.
Hobbema presents us with a tidy, rational world that is satisfying to look at, in its beauty, simplicity and calmness. The real world is less orderly, less comprehensible. Yet, this is not a secular painting. The steepled church dominates the distant town, as a symbol of faith. The painting is suggestive of the writings of the influential French philosopher Descartes, who argued that to present a rational world was to present a divine world, since reason is what makes man in God's image. This rational and divine world to which Hobbema alludes, was the new order of the Dutch Republic after its independence from Spain, with its emphasis on land reclamation, commerce and honest labour.
The painting entered the National Gallery's collection in 1871, when the Gallery acquired most of Sir Robert Peel's collection. It's likely that Pissarro saw it when it first went on display and before he left London in June 1871, inspiring his painting, The Avenue, Sydenham.
Later, in 1878, the English novelist Thomas Hardy (a regular visitor to the Gallery), wrote in his diary of 'Hobbema's view of a road with formal lopped trees and flat tame scenery and the presence of a human figure among them.' Inspired by this motif of a small figure walking in an undramatic landscape, his novel, 'The Mayor of Casterbridge' opens with a young man, woman and child walking silently towards a village hiring fair.