Lady in waiting
Madame de Pompadour did not come from a noble background. Born Jeanne-Antoinette Poisson in 1721, her father François Poisson made his fortune working for a family of powerful financiers.
It was rumoured that her real father was one of her mother's many lovers. This would explain why a tax collector called Charles Le Normant de Tournehem paid for her education.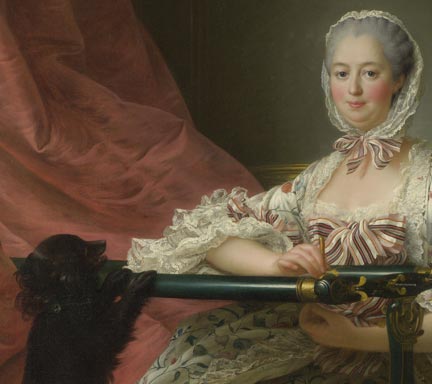 Jeanne-Antoinette was groomed for success in high circles. A convent school education was complemented by voice and elocution lessons from stars of the Parisian opera and theatre.
In 1741, Tournehem arranged her marriage to his wealthy young nephew and she moved to the Château d'Etoilles, just outside Paris. There she cultivated a 'salon' - a circle of writers, artists and philosophers. Her ambitions, however, extended far beyond life as a wife and mother at Etoilles.
In 1745, she became the King's mistress. She determined that this would not be a short-term affair. Once she had secured an apartment at Versailles she arranged a formal separation from her husband and organised that their daughter, Alexandrine, be cared for elsewhere.
The finishing touch was the title of Marquise de Pompadour, and her own coat of arms, bought for her by the king.
Next: The art of seduction