Poussin
No explicit records exist in the Longford accounts (now housed at the Wiltshire and Swindon History Centre) of the purchase of Poussin's painting, 'The Adoration of the Golden Calf'. However, it is likely that it was bought in November 1741 when a payment of £481 and 5 shillings was listed for ''2 Pictures of Nicolas Poussin''. The second painting may have been its companion piece, 'The Crossing of the Red Sea', which is now in Melbourne, Australia. Works by the 17th-century painter Poussin were highly regarded by collectors and connoisseurs during the 18th century, and Lord Folkestone must have felt pride in owning these works. In 1749, he paid for a print to be made of 'The Crossing of the Red Sea', perhaps for his own interest, or for the purpose of disseminating and promoting his collection more widely.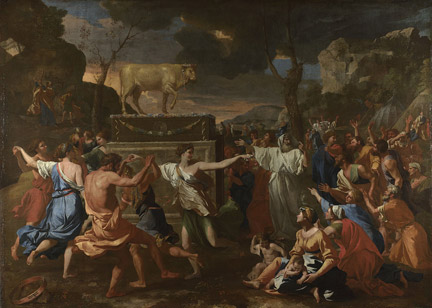 An 18th-century catalogue of the Longford collection tells us that the paintings were hung together on the left-hand side of the door upon entering the Picture Gallery. This would have been near to paintings by other famous Old Masters including Claude and Sebastiano del Piombo. The catalogue entry contains a reference to the opinion of the 17th-century French art historian André Félibien. It quotes: 'both [paintings] Admirable for great Composition Beaty [sic] of Design, & strength of Expression' – suggesting that the family used books to inform their art collecting practice.
A different view?
'The Adoration of the Golden Calf' did not form part of the sale of pictures from Longford that took place in 1890. It was acquired by the Gallery in 1945 with a contribution from the Art Fund. Today, the experience of viewing the picture at the National Gallery is quite different from how it would have been at Longford Castle in the 18th century. It is no longer surrounded by fine furnishings and artworks from other countries and periods, and it is without its companion piece for the first time. The painting is now located in Room 19 at the National Gallery, a space dedicated to works by Poussin, allowing visitors to make comparisons between multiple works, and explore the development of the artist's style over time.
However, Room 20 next door houses paintings by Claude. Therefore, as when the two artists were grouped near to one another in the Picture Gallery at Longford, their works continue to be admired in close proximity today.