'Don Adrián Pulido Pareja'
This portrait of 'Don Adrián Pulido Pareja' was probably purchased by the 2nd Earl of Radnor in 1811 and appears in catalogues of the Longford art collection from 1814 and 1829. Both catalogues list the painting amongst works hung in the Picture Gallery – its prominent position suggests the work was considered to be one of the best in the collection. The picture dealer John Smith described the painting as 'a magnificent Portrait'.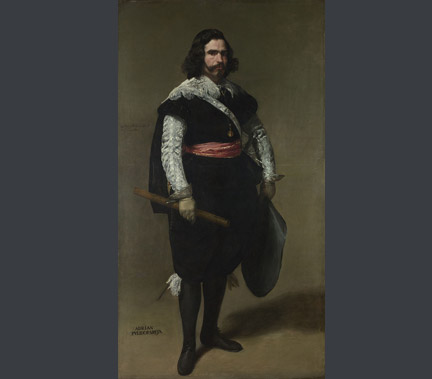 There are fewer paintings by Spanish Old Masters in the Longford collection in comparison to other schools, such as works by Dutch and Flemish artists. However, the portrait of 'Don Adrián Pulido Pareja' may have visually complemented portraits by the Flemish artist Anthony van Dyck. Both Van Dyck and Velázquez were famous court artists of the 17th century. Therefore, when this painting was believed to be by Velázquez, these paintings could have been considered equals.
Then and now

When the portrait was acquired by the National Gallery in 1890 (still assumed to be a Velázquez), the Gallery's Director at the time, Sir Frederic Burton, wrote of the three Longford paintings: 'each of these works must be counted amongst the prime achievement of the master who produced it.' Unfortunately, in this case, the painting turned out not to have been by the master at all!
The painting now hangs in Room 30 of the National Gallery, alongside other works of the Spanish school such as paintings by Bartolomé Esteban Murillo and Francisco de Zurbarán.