Holbein
The artist Hans Holbein the Younger was a famous portraitist in the Tudor court. Several paintings from this era were purchased during the 18th century to hang at Longford, and may have been considered suitable for displaying in the Elizabethan building. Holbein was a painter whose work was admired by the family, with the 1st Viscount Folkestone purchasing a portrait by the artist of the humanist scholar Erasmus in 1754. This had previously been in the collection of Dr Mead, an eminent art collector, making it a particularly desirable object.
In 1808, the 2nd Earl of Radnor employed the services of the picture dealer William Buchanan. It appears that Buchanan acquired Holbein's 'The Ambassadors' on his behalf. The painting was then hung in the Picture Gallery at Longford. The green damask wall hangings in the room must have perfectly complemented the background of this masterpiece.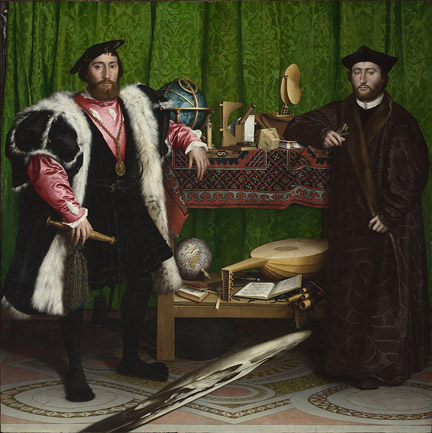 Acquisition by the National Gallery
In 1890, the family sold 'The Ambassadors' to the National Gallery. It was purchased along with two others from the Longford collection - 'Portrait of a Gentleman' by Giovanni Battista Moroni, and the portrait of 'Don Adrián Pulido Pareja' – originally attributed to Spanish master Diego Velázquez, but now considered to be possibly the work of Juan Bautista Martínez del Mazo.
The sale was perhaps made to raise funds for recent building renovations that had taken place at the castle, and to pay new 'death duties'. One of the stipulations for the sale was that the three paintings could only be bought together in one lot. Generous financial contributions from Lord Rothschild, Sir Edward Guinness, and Charles Cotes helped raise the sum required to secure the paintings for the nation. Upon entering the Gallery, the painting underwent some restoration work.
'The Ambassadors' is now one of the most famous paintings in the National Gallery collection. It has long intrigued viewers with its rich symbolism and unusual, distorted representation of a skull. The portrait of 'Erasmus' purchased by Lord Folkestone also now hangs in the National Gallery, on long-term loan from Longford Castle.