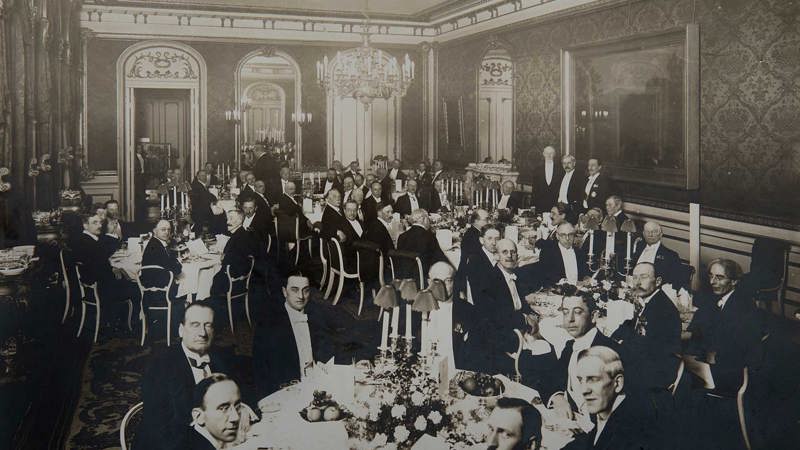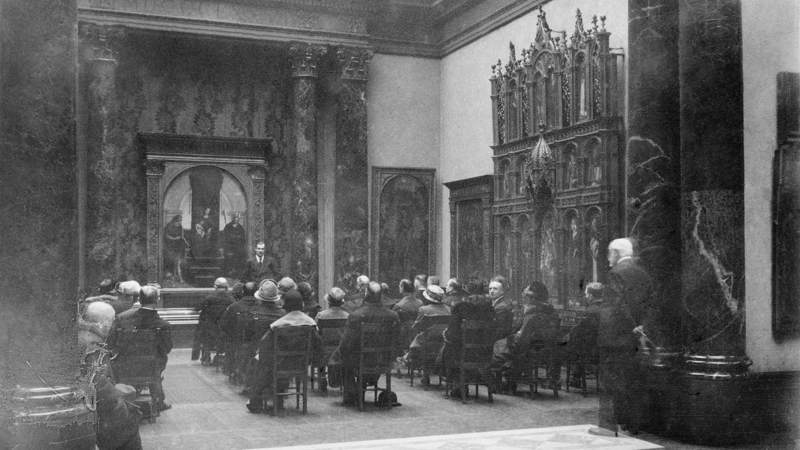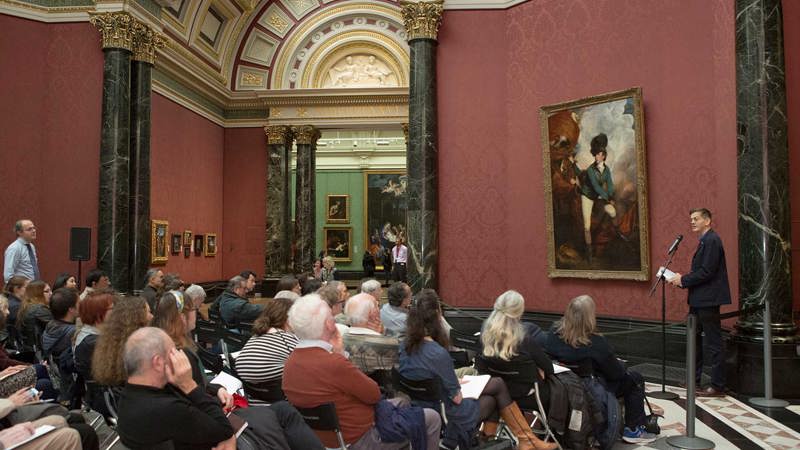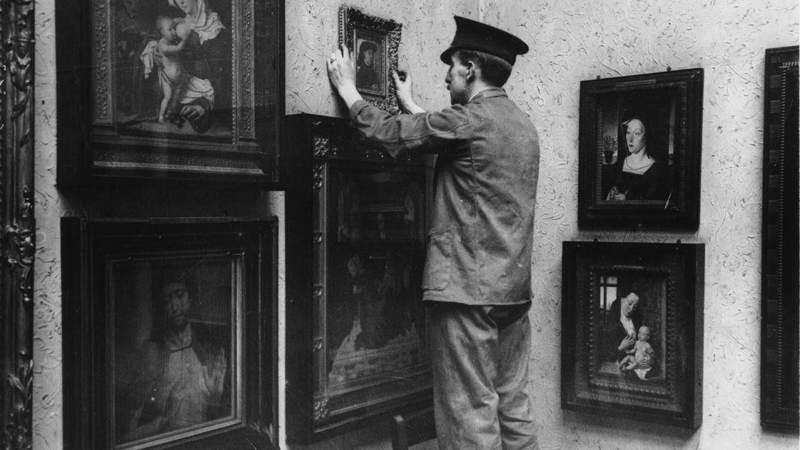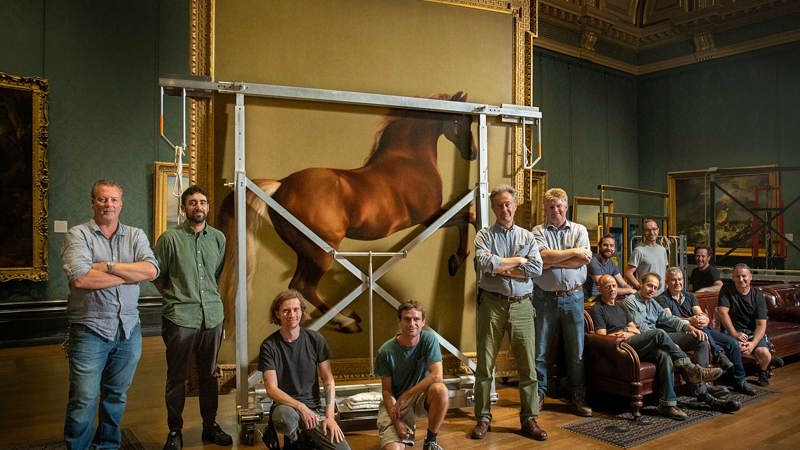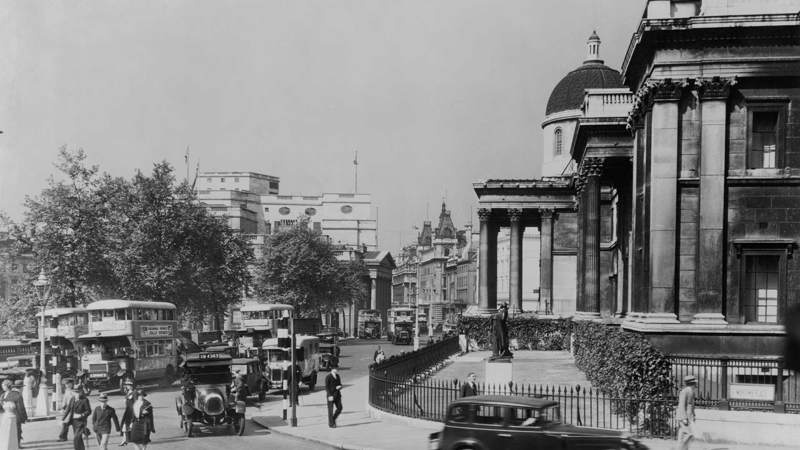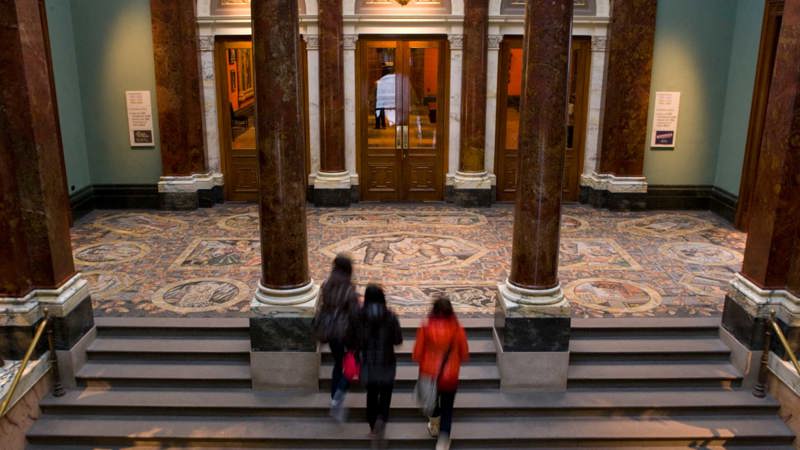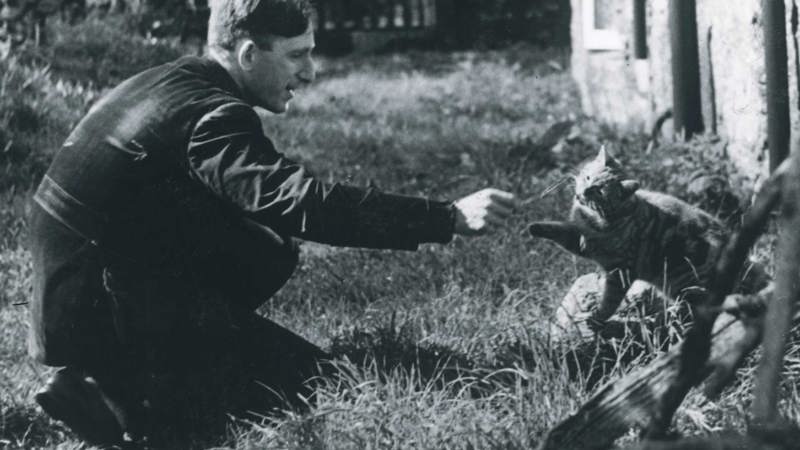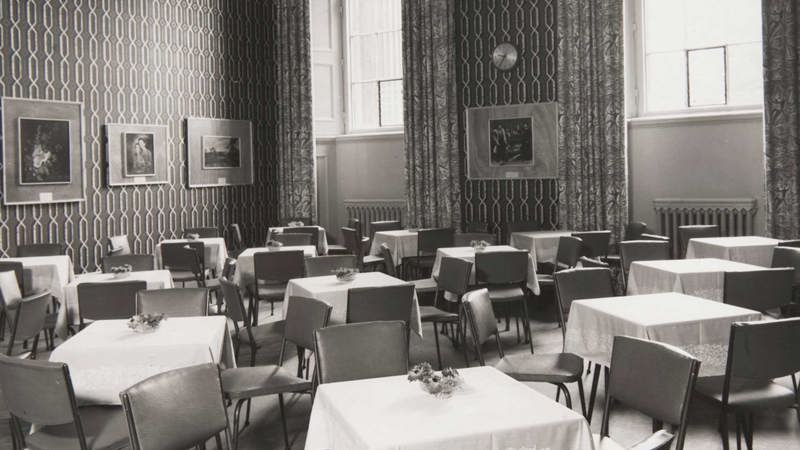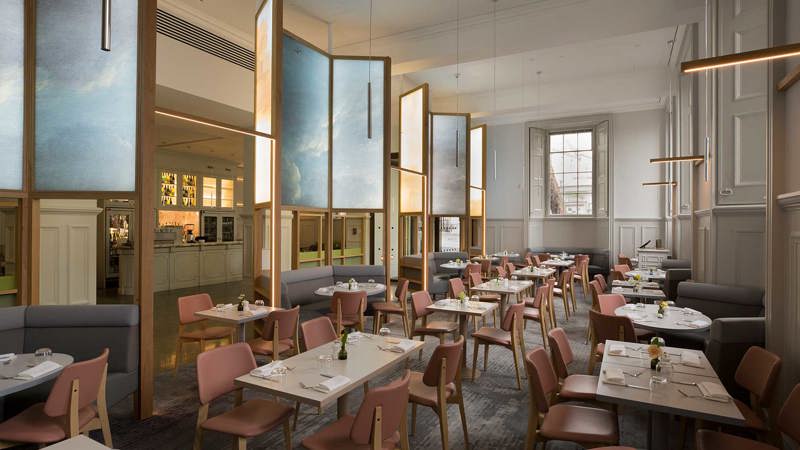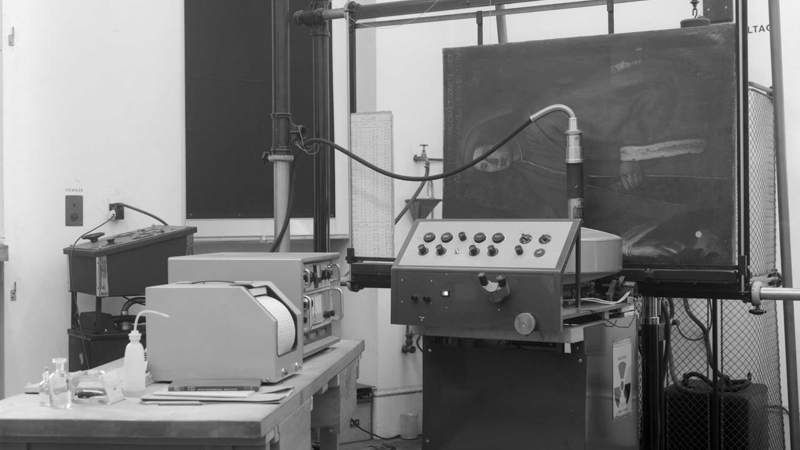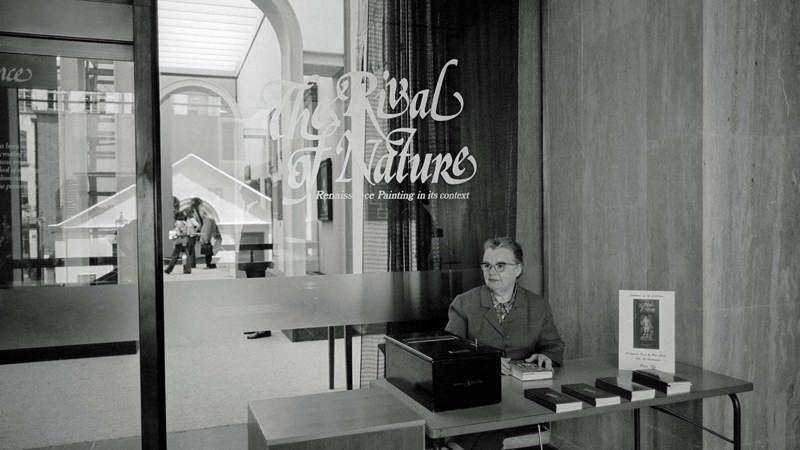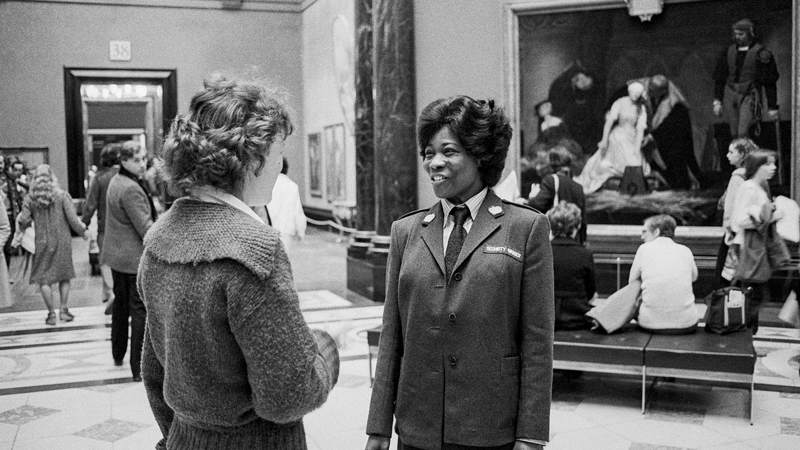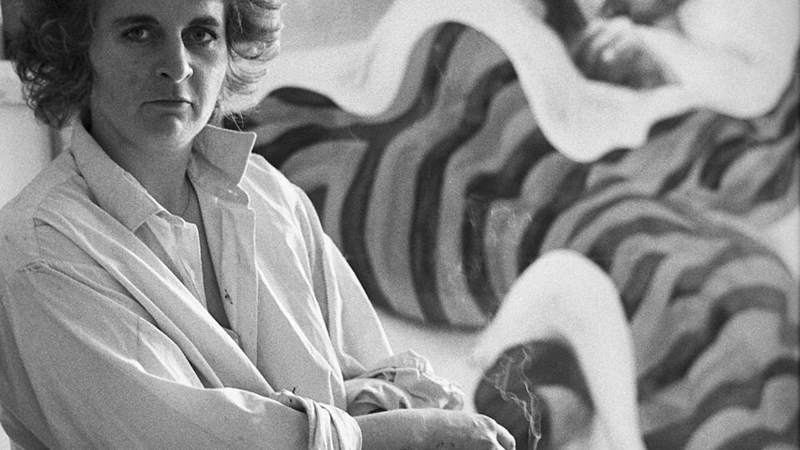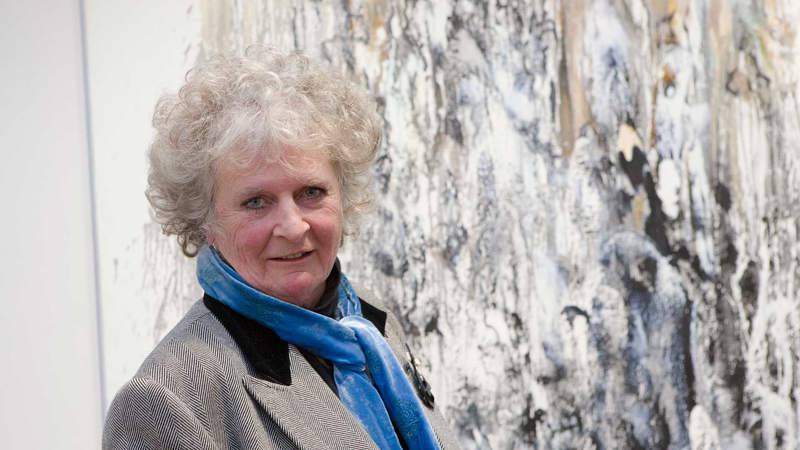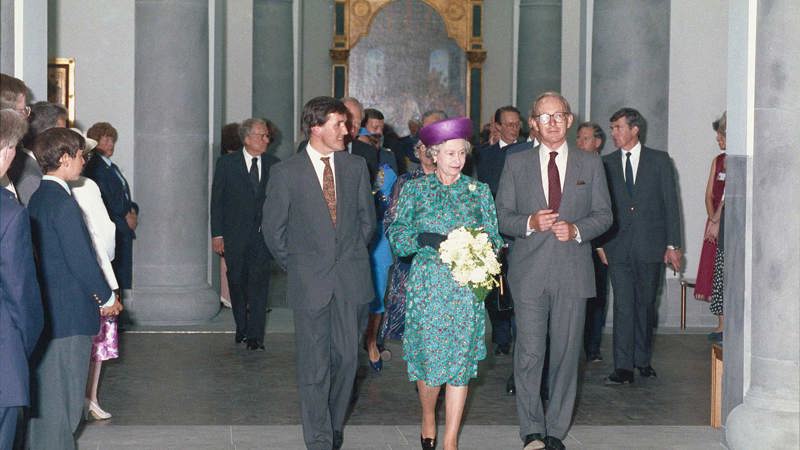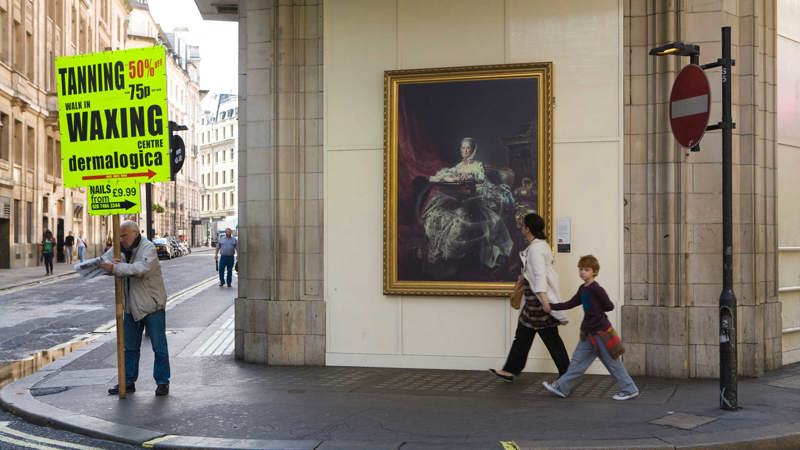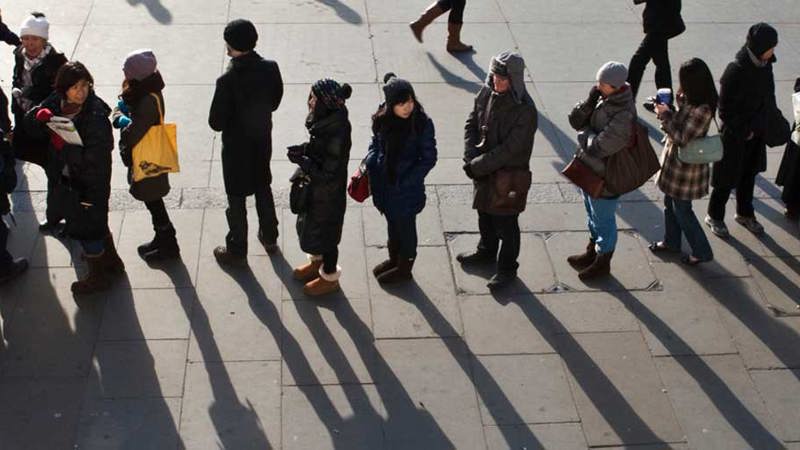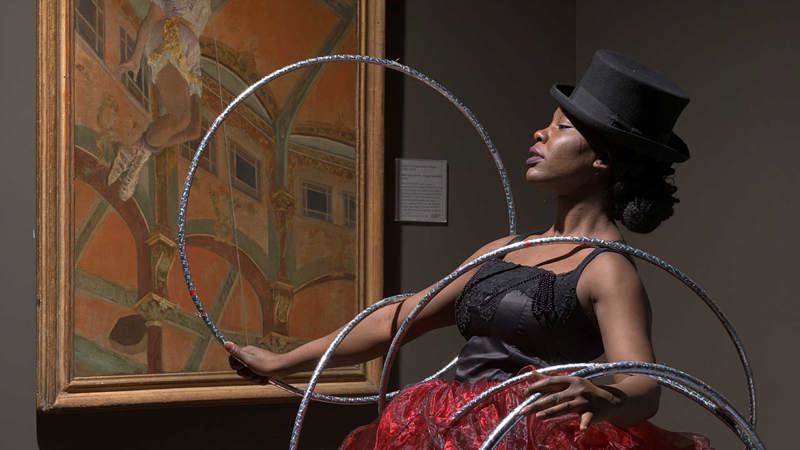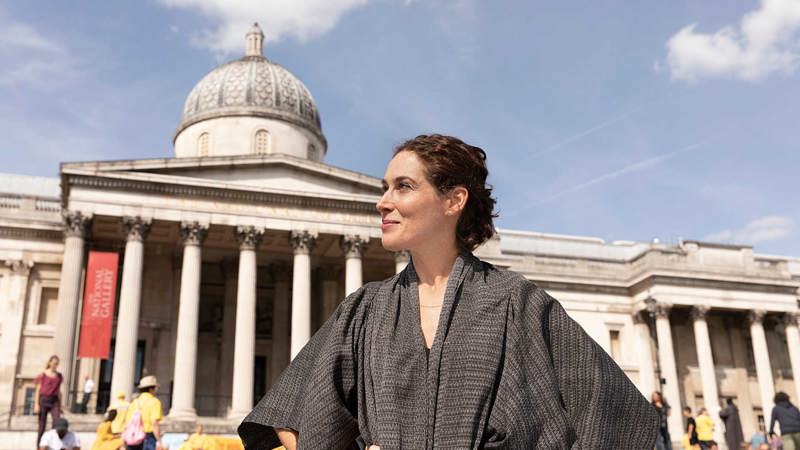 1920s
No this isn't a still from The Shining – one of our oldest images in the archive, this was a dinner held to celebrate another centenary, the foundation of the National Gallery, hosted by the Rt Hon J. Ramsay Macdonald at Lancaster House on 2 April 1924.
Thought to have been taken in 1928, this image shows visitors listening to a talk in Room 37.
Nearly 100 years later, and we're still hosting free lunchtime talks. Here's one in the same space today.
This image, also thought to be from around 1928, shows an attendant hanging A Young Man holding a Ring, in one of the Flemish rooms…
... our Art Handlers no longer stand on chairs to hang paintings!
1930s
Traffic lights were a novelty in 1933; this was taken to record their inauguration in Trafalgar Square. The road you see here no longer exists, as the area was pedestrianised in 2003.
Traffic lights weren't the only unveiling in 1933; it's also the year that artist Boris Anrep laid his marble mosaic, The Awakening of the Muses on the floor of our Portico Entrance, which still greets visitors today.
1940s
Here's curator Martin Davies (who would later go on to become Director) playing with a cat in Wales during the Second World War. With London in the midst of the Blitz, all of the Gallery's paintings were hidden in a disused slate mine in Manod, North Wales. Find out more about our wartime history.
1950s
This shot of the Café was taken in the 1950s, if the decor is not a giveaway...
... Here's how The National Café looks today, still in our East Wing.
1960s
This image from 1968 was taken in the Scientific Department (founded in 1934), and shows a painting in front of a 'Milliprobe' X-ray fluorescence analyser. Our scientific and conservation teams are still making discoveries about our paintings through analytical imaging techniques based on the same principles.
1970s
This attendant was pictured outside 'The Rival of Nature' exhibition in 1975. The area is now part of our Pigott Education Centre.
1980s
This candid shot of warder Kathy Williams helping a visitor was taken in 1980. Delaroche's Execution of Lady Jane Grey is pictured in the background.
Maggi Hambling, pictured in her studio at the Gallery, became our first 'Associate Artist' in 1980. We've welcomed many contemporary artists since, including Sir Peter Blake, Ron Mueck and Paula Rego...
….and Maggi herself returned to the Gallery in 2014 with her exhibition, 'Walls of Water'.
1990s
The 90s saw the opening of our Sainsbury Wing. Designed by architects Venturi Scott-Brown, it was built especially to house our early Renaissance paintings. It was opened by the Queen in 1991, shown here with Director Neil MacGregor and Trustee and benefactor Simon Sainsbury.
2000s
Into the Millenium, and we're not sure what Madame de Pompadour would have made of her residence in Soho. This was taken in 2007 as part of 'The Grand Tour' which saw reproductions of our paintings appear in unexpected locations across the West End.
2010s
'Leonardo da Vinci: Painter at the Court of Milan' became our most-attended exhibition of all time in 2012. Through rain, shine and cold winter mornings, queues wound through Trafalgar Square as visitors waited for the chance of late-release tickets to see the sell-out show.
Taken in 2018, performing artist Blaze Tarsha was pictured in front of her 19th-century counterpart, Miss La La at the Cirque Fernando by Degas.
Which takes us to 2019, and our recently announced Artist in Residence, Rosalind Nashishibi pictured outside the Gallery; the first artist of our newly launched Modern and Contemporary Programme.