Suzanne Bosman, author of The National Gallery in Wartime, explains how life carried on at the Gallery during the Second World War.
After the annexation of Austria in March 1938 and the takeover of Czechoslovakia in September of the same year, the threatened invasion of Poland by Nazi forces brought Europe to the brink.
War looms
Faced with the threat of carpet-bombing and invasion, Director Kenneth Clark oversaw the evacuation of some of the world's finest masterpieces to places of safety. It was clear that the paintings could not stay in the Gallery – but should they leave the country?
Evacuation
Plans for the evacuation of the permanent collection in the event of a war had been finalised during 1938. When the Munich crisis threatened to trigger a European War, 50 paintings were transported to Bangor in Wales.
This happened on the 30 September 1938 – the very day the Munich accord was signed by Neville Chamberlain and Adolf Hitler. With the immediate danger of war averted, the paintings were able to return to London the same day.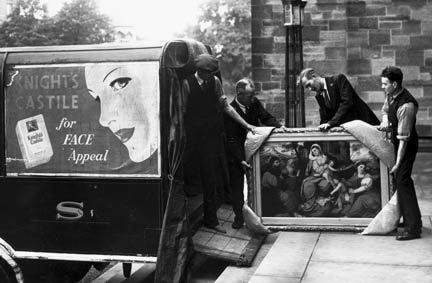 The outbreak of war
Barely a year later, the complete evacuation of the Gallery happened for real. By late August 1939 war was inevitable.  As wide-spread bombing of London was predicted, the National Gallery removed all its paintings from the premises during the 10 days that preceded the declaration of war on 3 September 1939.
Finding new homes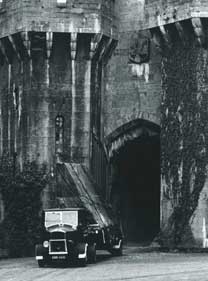 In order to protect them from the expected London Blitz, the vast majority went to Wales. They were distributed to various locations:
The University of North Wales at Bangor
The National Library of Wales in Aberystwyth
Caernarvon Castle
Trawsgoed (Crosswood)
Penrhyn Castle
A few paintings also went to Gloucestershire. These locations were only temporary homes while the longer-term future of the collection was considered.
The possibility of invasion made the decision an urgent one. Should the paintings stay in Wales in a more secure location or should they be transported by ship to Canada?