This is a typical example of the small but exquisitely executed still-life paintings which were Adriaen Coorte's specialism. He used a dark background and dramatic lighting to highlight the contrast between different shapes and surfaces, such as the translucence of ripe gooseberries and the musty...
A tempting pyramid of exotic foods stands out against the dark background of Jan Davidsz. de Heem's sensuous painting, evoking delectable flavours and scents. At the base, three fleshy oysters curled up in their shells are placed in a triangle, echoing the pyramid form. A single, half-full glass...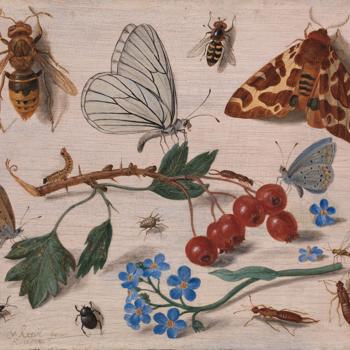 Meticulously painted insects, flowers and berries are laid out on a plain creamy white surface without any overlap. Each specimen is carefully observed and identifiable. All of this might give us the idea that we are looking at a scientific illustration, but these insects appear very much alive:...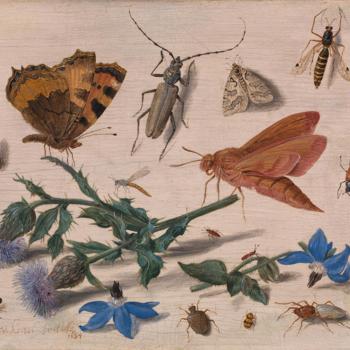 Insects crawl on and around a spray of creeping thistle and borage flowers, all casually arranged to appear natural. But the creamy white surface is reminiscent of vellum, the prepared animal skin that was used for manuscripts and miniatures, highlighting the artificial nature of this composition...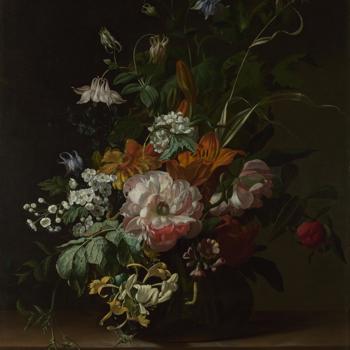 Rachel Ruysch's elegant bouquet carries a breath of autumn. Pear blossom, peonies, honeysuckle and columbine all bloom early in the year, but the burnt orange and deep green of the lilies, the seed pod straggling over the edge of the shelf, the ripe wheat and the dry, veined leaves turn away thou...