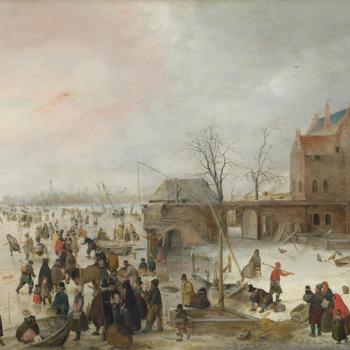 In the seventeenth century the Little Ice Age settled over Northern Europe. Rivers and canals in Holland froze over and people took to the ice for work, leisure – and accidents. Hendrik Avercamp, just starting out as an artist, took to it too. His life's work became the depiction of winter scenes...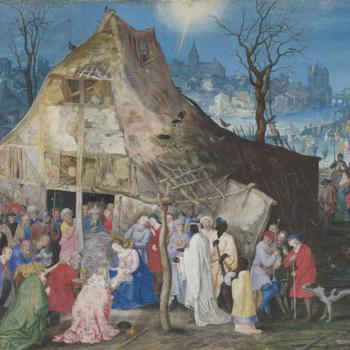 Jan Brueghel seems to have squeezed a whole world into his tiny picture. A crowd waits patiently for a turn to come closer to the little child on his mother's knee. The baby is bare, to show us that he's a real human baby, but the silvery arrow of light tells us something more.The old man kneelin...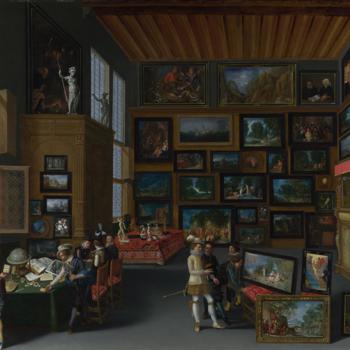 Eleven finely dressed men inspect and discuss the contents of a large room packed with works of art, astronomical instruments and antiques. Their distinctive features suggest that these might be portraits of known artists, connoisseurs, collectors and art dealers – the 'cognoscenti' of the painti...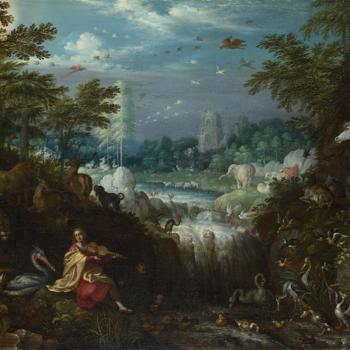 There's something magical about this enchanting picture, in its unearthly, misty colours, deep shadows and strange beasts. The musician fixing us with an enquiring eye is Orpheus. His story comes from one of the legends told by the Roman poet Ovid in his book Metamorphoses.Orpheus' skill was so g...
In a guardroom that looks more like a Flemish tavern than a prison, a crown of thorns is being placed on Christ's head. This humiliating moment, recounted in the Gospels of Matthew, Mark and John, was one of a number of such episodes in the lead-up to Christ's crucifixion. Here, the henchmen wear...