Re-examination of National Gallery lighting
The National Gallery aims to maximise, within conservation limits, the use of natural light to illuminate its collection where possible, controlled by externally mounted blinds and supplemented with artificial light sources as required.
The main artificial lighting scheme used in recent years 23, consisted of spotlights suspended from high-level tracks, lighting each picture with at least one pair of 'blue' lens and 'clear' lens lamps. As the level of natural light falls (from a maximum value of about 200 lux) to below the artificial light set-point of 150 lux, the 'blue' lens units are switched on automatically, providing an extra 60 lux of cooler illumination, similar to the colour of daylight. If the natural light continues to fall the 'clear' lens units are also switched on, providing a further 90 lux of warmer illumination, keeping the total level of illumination between 150 – 200 lux. This process then reverses as the natural light levels increase, with the maximum amount of natural light being limited by the external blinds.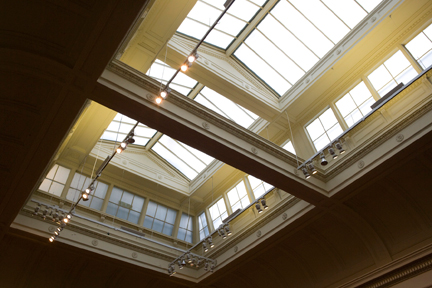 In contemporary energy management's terms, the tungsten lamps used in this strategy are extremely energy intensive [see page 7]. In addition their cycling on and off has been found to be very disruptive to people viewing the paintings. A new approach was required to improve the level of control, decrease energy use and running costs and maximise the safe use of natural light.

When the older system was first installed there was no real alternative to the tungsten halogen lamps, but in recent years a possible replacement artificial light source, light emitting diode (LED) 24, has developed in quality and reliability to become a suitable replacement, not only as a general light source but also for use within museums and galleries. The National Gallery Scientific Department has examined a number of proposed LED-based light sources, but it has only been in the last few years that newer types have begun to appear that provided a sufficient level of quality, efficiency and reliability.
Efficiency and reliability are easy factors to measure and compare. However, the 'quality' of the light produced by a light source is a more complicated issue. We need to examine how different light sources can be compared and consider exactly how reliable and accurate are the common metrics 25 used to describe and compare lights. This subject is beyond the scope of this article, but has been discussed in detail on one of the National Gallery's research websites 26.
Futher sections
Re-examination of National Gallery lighting
23. D. Saunders, 'Lighting' in C. Amery, ed., 'A celebration of Art and Architecture: the National Gallery Sainsbury Wing', , London, 1991, pp. 128–131.
24. 'Light-emitting diode', accessed on 19 February 2013.
http://en.wikipedia.org/wiki/Led
[External link]
25. Such as lux, colour temperature (CT) and colour rendering index (CRI)
26. 'Spectral Power Distribution (SPD) Curves', accessed on 19 February 2013.
http://research.ng-london.org.uk/scientific/spd/