Earlier projects
Over the past 12 to 15 years, the National Gallery has invested in a number of projects to reduce energy consumption, some of which have contributed to reducing our CO2 emissions when compared to our agreed baseline year of 2005. Some of these projects are listed below:
Installing variable speed drives (VSD) for all pumps and fans
Improving the insulation for certain roof areas
Upgrading external glazing
Reviewing plant control strategies
Implementing a variable-flow chilled water system
Installing appropriate passive infrared (PIR) lighting controls for gallery spaces and back-of-house areas
Implementing appropriate seasonal set-points for the temperature within the galleries
Part-replacement of air cooled chillers
Introduction of CO2 control on our air conditioning systems to limit fresh air requirements
Replacement high-frequency lighting 16 to all roof lay light areas
In order to continue and refine this energy saving policy a National Gallery Carbon Management Plan (CMP) 17 has been developed to incorporate measures which will reduce CO2 emissions in accordance with Government targets and describe ways in which these measures will be financed.
In preparing this plan the National Gallery participated in the Carbon Trust's Central Government Carbon Management 18 Pilot Scheme, a ten-month programme involving various workshops, 'webinars' and peer-to-peer sessions that guided the organisation through the steps thought necessary to create a framework for energy saving projects and for gaining institutional support.
Over the last seven years energy awareness presentations have been given to all departments within the National Gallery and these issues are regularly reinforced through a dedicated Sustainability Carbon group. The aim is to help extend commitment to all levels of operational management, to continue to increase awareness, to improve internal communication and to ensure momentum is maintained.

The CMP has defined a strategy to achieve a 43% reduction in emissions by 2015, identified through various initiatives, surpassing the Government target in terms of the overall level of emissions and the timescale of the reductions.

As noted above, the baseline year for the Gallery's Carbon Reduction target was set at 2005, when Gallery emissions totalled 9417 tonnes of CO2 19. To achieve our target, emissions need to be reduced to 5437 tonnes CO2 by 2015. From 2005 the CMP, including some of the projects listed above, has allowed the National Gallery to achieve savings of 1698 tonnes CO2 up to the period 2009-2010. This represents a reduction of 18% on the baseline carbon emission tonnage. The remaining savings required represent a further 2316 tonnes CO2 reduction, to meet our target of a 43% overall decrease by 2015.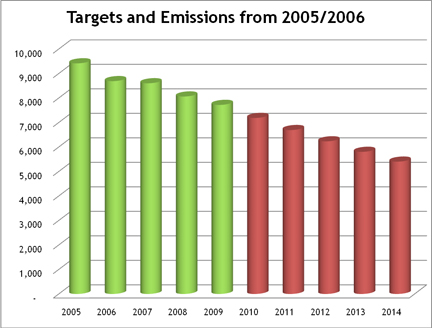 One of the most successful carbon saving initiatives involved the replacement of six, twenty year-old, reciprocating central air cooled chillers 20 over a three year period from 2009.

While considering all modern alternatives it was established that, with its increased efficiency, the Airedale Turbocor centrifugal chillers 21 would be the best option. With the high level of energy savings that could be achieved 22, taking account of rising utility costs, the capital investment required proved more than justified. The estimated savings for all six chillers is some 600 tonnes CO2 per annum. These chillers also offer the benefit of having frictionless bearings and are oil-free, preventing any possible contamination to the refrigerant. They also run relatively quietly, and are virtually vibration free when operating at full capacity, which is an advantage in central London.

The remainder of the National Gallery target CO2 savings will be achieved through additional projects now being planned or already in progress.
Further sections
16. A characteristic of fluorescent lamps is that their efficacy (lumens/watt) increases with frequency. Increasing the frequency of operation from that of the normal mains supply of 50/60Hz to typically 30KHz improves lamp efficacy by approximately 10%. The high-frequency mode results in low power loss at the cathodes which means more power is available in the arc. The other benefit is that low-frequency fittings have been linked with flickering of lamps and this is reduced with high-frequency units.
17. 'Carbon Management Plan', accessed on 19 February 2013.
http://www.nationalgallery.org.uk/about-us/organisation/policies/carbon-management-plan
18. For more information on what the Carbon Trust does see: 'Tools, guides & reports', accessed on 19 February 2013.
http://www.carbontrust.co.uk/publications/pages/publicationdetail.aspx?id=PFL472
[External link]
19. An average family car emits approximately 5.2 tonnes of CO2 per year based on the average mileage of approximately 12,000 miles per year. Source: 'Greenhouse Gas Equivalences Calculator', accessed on 19 February 2013.
http://www.epa.gov/cleanenergy/energy-resources/calculator.html
[External link]
20. 'Professional Resources', accessed on 19 February 2013.
http://www.york.com/professionals
[External link] (Model number: YCWA5/400M505S).
21. 'Airedale', accessed on 19 February 2013.
http://www.airedale.com/v2portal/airedale_int.portal
[External link] (Model number: TTG23E510X95R).
22. The selected Airedale chillers, (Model number: TTG23E510X95R), exhibited high part load efficiencies, along with a seasonal energy efficiency ratio (SEER) of 3.2. Source: 'Seasonal energy efficiency ratio', accessed on 19 February 2013.
http://en.wikipedia.org/wiki/Seasonal_energy_efficiency_ratio
[External link].