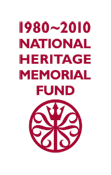 Thirty years of saving the UK's treasure
This year marks the 30th anniversary of the National Heritage Memorial Fund (NHMF).  Over the last three decades the fund has safeguarded over 1,200 iconic heritage treasures for the nation, including 'The Flying Scotsman', Henry VIII's flagship the 'Mary Rose', Turner's 'The Blue Rigi', and most recently the Staffordshire Hoard.
Set up in 1980, NHMF provides grants to help acquire the UK's most precious heritage at risk of loss. It does so as a living memorial to those who have given their lives in service to the country. The fund has awarded just over £298.3 million to help build and protect an outstanding national collection, ranging from historic houses, monuments, and works of art to industrial and maritime heritage, and iconic landscapes.
NHMF has helped the National Gallery to acquire 11 works of art including, most recently, Titian's Diana and Actaeon, which was jointly acquired by the National Gallery and the National Galleries of Scotland in 2009. A selection of the masterpieces that have entered the collection with NHMF's assistance are shown below.