On a moonlit night, 10 people gather around a table; their faces illuminated by candlelight.
A young, anxious girl looks upwards. We follow her gaze and see a glass jar and, inside it, a bird – a rare cockatiel.
An Experiment on a Bird in the Air Pump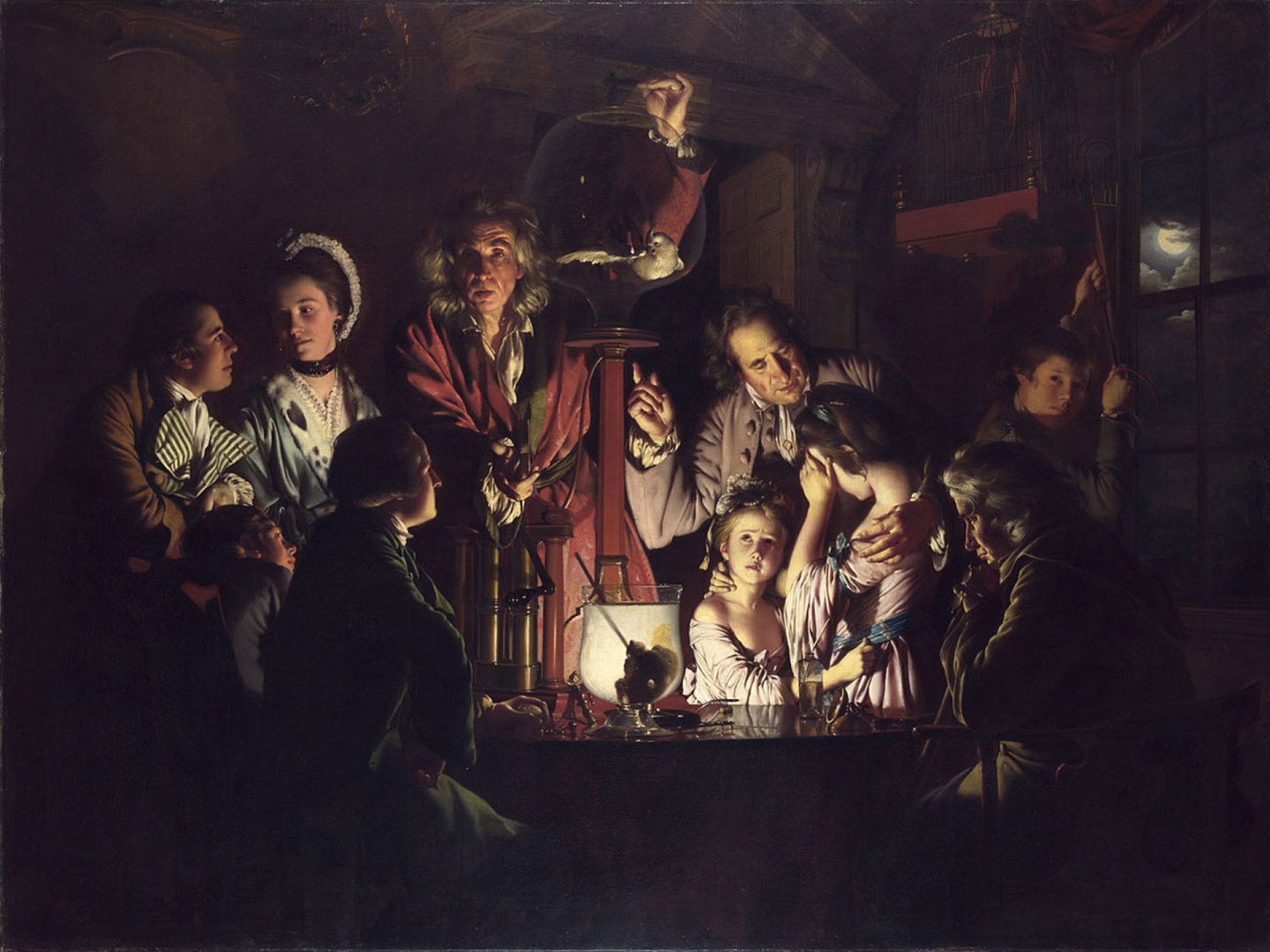 The jar is held by a scientist. He is showing the group how sucking air out of a jar creates a vacuum. Starved of oxygen, the bird grows distressed, and the scientist demonstrates how it cannot breathe within the vacuum.
The group reacts to this experiment in different ways. The two young girls are clearly upset. A fatherly figure either consoles them or explains the experiment to them. In contrast, the young boy directly opposite leans in, engrossed. Next to him, a man holds a stopwatch, timing the experiment. Another man, hands clasped, appears deep in thought. The young couple seem only interested in each other. 
The fate of the bird is held in suspense. A boy holds an open cage – is this so that the bird can go back in safely, or has he just released it?
Wright 'of Derby' may have left some clues within the painting. Some believe the glass container on the table holds a skull, which in paintings usually acts as a 'memento mori' – a reminder that we will all die one day. Candles and skulls are often companions in art, the candle demonstrating the passage of time and the skull its end.
An Experiment on a Bird in the Air Pump can be seen as a work of the Enlightenment, an intellectual and scientific movement across Europe in the 18th century. Alongside the Industrial Revolution, this was a time of radical social, political and technological change.
The children so starkly lit in the painting are part of the generation who will inherit this new world, and who, like us, must decide where they stand on the ethical questions raised by science and progress.
See how this painting inspired schoolchildren in our Take One Picture exhibition
Category:

Lunchtime talk, Free

Piero della Francesca's 'Baptism of Christ'

Curators' introduction: Pesellino: A Renaissance Master Revealed

Members' talk and Q&A

Category:

Creative session, Free

Shine bright like a Liotard

Category:

Creative session, Free

Festive craft workshop

Bauble making

Category:

Course, From £70.50

Stories of art

1400-1500

Category:

Talks & conversations, Free

Pause with a painting

Justus of Ghent and Workshop 'Music'

The fine art of fashion: 1700-1800

Take One Picture CPD - 2023/2024

Online sessions

Resonate: Sounds in the Gallery

Louis the Hippie

Category:

Study day, From £45

Frans Hals's world

Turning portraiture into art

Fully booked.

Category:

In conversation, Free

Martin Gayford and Jonathan Jones

Curator's introduction

Discover Liotard and The Lavergne Family Breakfast

Category:

Course, From £10

In focus

Piero della Francesca

Lunchtime concert: Black British Classical Foundation

Roberta Philip and Daisie Sitlani

Afternoon concert

David Cohen and Alina Pritulenko

Category:

Creative session, Free

Friday Lates life drawing

2B Or Not 2B Collective

Category:

Talks & conversations, Free

Friday Lates gallery tour

Virtues of the season

Category:

Music & performance, Free

Friday Lates performance

Hannah Catherine Jones

A livestream Christmas tour

Members' live tour and Q&A

Category:

Lunchtime talk, Free

Lorenzo Monaco's 'The Coronation of the Virgin'

Festive lunchtime concert

London Obbligato Collective

Victorian Christmas traditions

Members' talk and Q&A

The Three Kings: Epiphany in art

Members' talk and Q&A

Stories of art taster lecture

El Greco and Toledo

Category:

Course, From £11.75

In focus: Francesco Pesellino

Category:

Lunchtime talk, Free

Mantegna's 'The Triumphs of Caesar'

Category:

Course, From £70.50

Stories of art: 1500-1600

The National Gallery's year-in-review quiz

Members' talk and Q&A

Category:

Creative session, Free

Meditative mark making

Reflect, restore and resolve

Category:

Course, From £11.75

Van Gogh and Hals: Out of time, but so modern

Category:

Talks & conversations, Free

Pause with a painting

Claude's 'A Seaport'

Curator's introduction

Pesellino: A Renaissance Master Revealed

Category:

Creative session, Free

Friday Lates drop-in drawing

Light, tone and rhythm

Category:

Music & performance, Free

Friday Lates: Zubin Kanga

Earth of the Slumbering and Liquid Trees

Category:

Talks & conversations, Free

Friday Lates gallery tour

Frans Hals and his contemporaries

Category:

Talks & conversations, Free

Friday Lates tour and poetry readings

SJ Fowler

Category:

Lunchtime talk, Free

Pintoricchio's 'Penelope with the Suitors'

Reflecting on 'The Credit Suisse Exhibition: Frans Hals'

Members' talk and Q&A

Lunchtime concert

London Obbligato Collective

Audio Art: Utterly in the picture

Titian's 'The Death of Actaeon'

Category:

Lunchtime talk, Free

Jewish cultural philanthropists at the National Gallery

Category:

Creative session, Free

Talk and draw

Portrait of Joseph Brummer

Unexpected views

Sharon Walters

Category:

Course, From £47.50

What is an 'Old Master' painting?

Category:

Lunchtime talk, Free

The art of Renaissance Venice

Resonate: Sounds in the Gallery

Naomi Kimpenu

Category:

Course, From £35.25

The materials of empire: Liotard, trade, and empire in the 18th century

February half-term

Decoding pictures

Category:

Creative session, Free

February half-term

Imagined stories

Listening to paintings: LGBTQI+ resonances in art history

Category:

Creative session, Free

Friday Lates life drawing

Brixton Life Drawing

Category:

Talks & conversations, Free

Friday Lates gallery tour

Mythological rage

Category:

Talks & conversations, Free

Friday Lates comedy performances

Art Laughs

Category:

Talks & conversations, Free

Friday Lates gallery tour

Biblical wrath

Category:

Talks & conversations, Free

Pause with a painting

George Stubbs'  'Whistlejacket'

Category:

Course, From £96

Painting with pastels

Portraiture course

Fully booked.

Category:

Creative session, Free

Talk and draw

The Triumph of David

Unexpected views

Rana Begum

Category:

Course, From £11.75

In focus: Raphael

Category:

Lunchtime talk, Free

Velázquez's 'The Rokeby Venus'

Category:

Course, From £70.50

Stories of art

1600-1700

Category:

Lunchtime talk, Free

Bassano's 'The Good Samaritan'

Category:

Course, From £11.75

Eva Gonzalès and the world and studio of the female artist

Category:

Course, From £11.75

In focus: Rembrandt