Calame came regularly to the Bernese Alps in search of spectacular views. Despite suffering with ill health, he would paint outdoors.
Here he transports us to a meadow in the Haslital Valley. Our perspective is such that we might imagine walking in the mountains and stopping to take in the view opening before us. A towering pine tree dominates the foreground. The sense of scale is heightened by the snow-capped mountain peaks and icy River Aare tumbling down the steep mountainside into the valley below: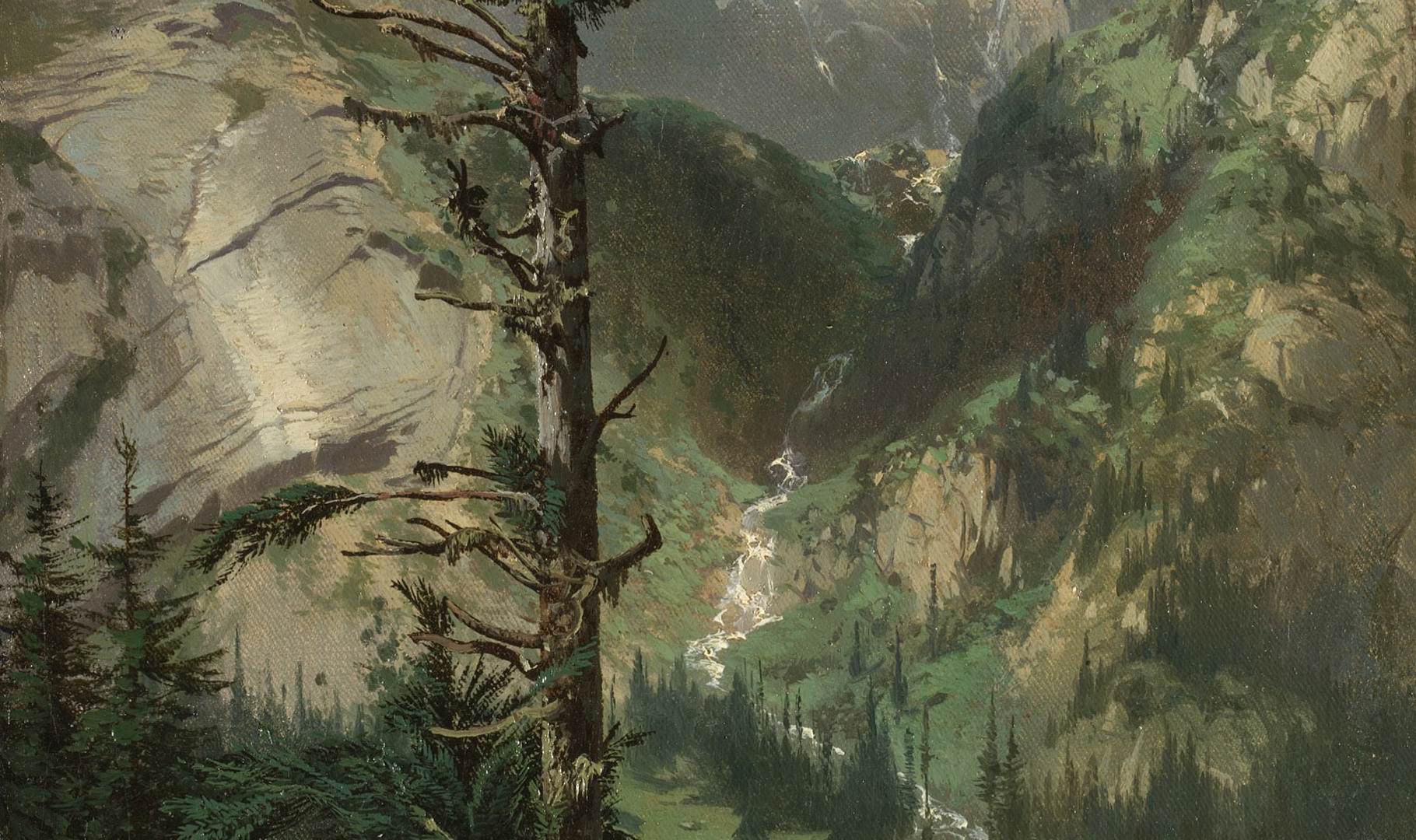 For Calame, the evergreen tree held deep religious significance. He once described a fir tree as ruling 'over vast solitude, alone with God' and the idyllic scene might suggest ideas of paradise.
The composition is sophisticated, being made of a network of triangles, while the lighting is subtle. As our eye travels across the landscape, we pass over areas of light and gloom, from the dark trees in the valley, to the sunlit slopes, lilac-grey rocks and brooding clouds beyond.
Despite being blind in one eye, Calame filled his paintings with detail: glistening-wet pine leaves, the break of sky between clouds, a chalet nestled in the valley.
He began painting Alpine scenes when he was 16 to earn money to support his mother after his father died. His works proved so popular that he was able to train as a painter in Geneva, and was soon making a career for himself with paintings such as these; souvenirs for holiday-makers and Grand Tourists in the new age of train travel and sightseeing.
Calame became the leading landscape painter of 19th-century Switzerland, his paintings fusing a Romantic sense of the sublime with the intricate detail of painting outdoors.