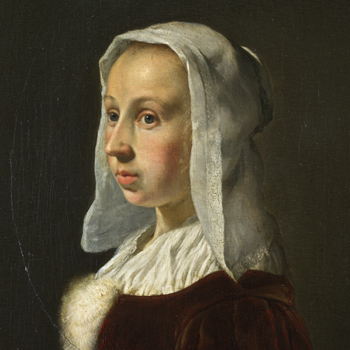 Though small in scale, Frans van Mieris the Elder's portrait of his wife is rich in detail
Dutch artist Frans van Mieris the Elder painted this tiny portrait of his new wife Cunera van der Cock around 1657, when she was 27, to celebrate their marriage.
He likely intended it as a gift for her, or for them to enjoy together, in their home in Leiden. He made a matching self-portrait to go with it, which is now in the Gemäldegalerie in Berlin.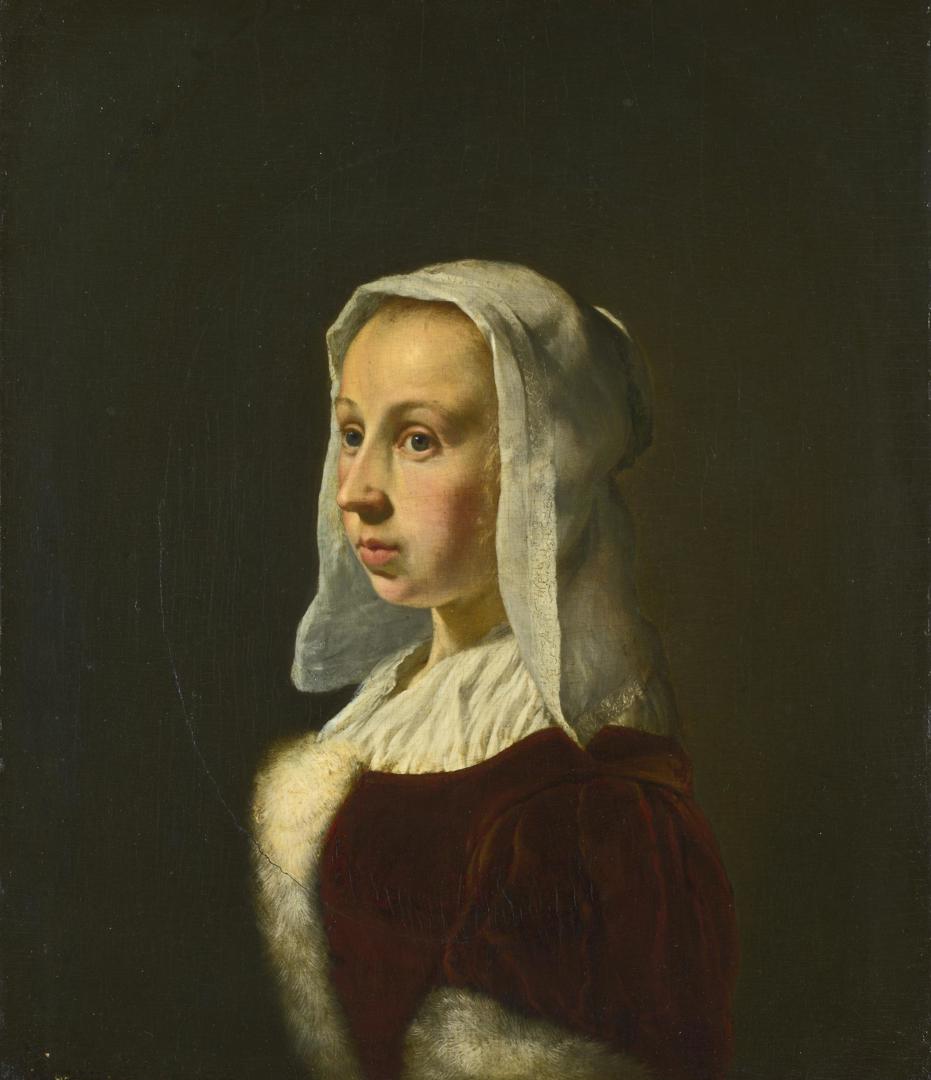 Van Mieris specialised in miniatures and small-scale portraits that were remarkable for their meticulous realism. He was also known for his many scenes of everyday life (often featuring Cunera as the model), which were a major inspiration to the artist Vermeer.
In contrast to Vermeer, who was only modestly successful in his lifetime but has been rediscovered in modern times, van Mieris's paintings sold to wealthy collectors for more than 1500 guilders (the price of a house), but are now less familiar to many of us.
Here the artist shows his wife, gazing quietly to the left, in direct light. The detail is astonishing; we can imagine the feel of her clothes – the white fur and burgundy red velvet of her jacket, and the crisp linen of her headdress.
Their son, Willem van Mieris, also became a painter, and although it is currently in store, you can see Willem's Woman and a Fish-pedlar in a Kitchen in our collection, along with his father's paintings in Room 16. 
Category:

In conversation, Free

Martin Gayford and Jonathan Jones

Curator's introduction

Discover Liotard and The Lavergne Family Breakfast

Category:

Course, From £10

In focus

Piero della Francesca

Lunchtime concert: Black British Classical Foundation

Roberta Philip and Daisie Sitlani

Afternoon concert

David Cohen and Alina Pritulenko

Category:

Creative session, Free

Friday Lates life drawing

2B Or Not 2B Collective

Category:

Talks & conversations, Free

Friday Lates gallery tour

Virtues of the season

Category:

Music & performance, Free

Friday Lates performance

Hannah Catherine Jones

A livestream Christmas tour

Members' live tour and Q&A

Category:

Lunchtime talk, Free

Lorenzo Monaco's 'The Coronation of the Virgin'

Festive lunchtime concert

London Obbligato Collective

Victorian Christmas traditions

Members' talk and Q&A

The Three Kings: Epiphany in art

Members' talk and Q&A

Stories of art taster lecture

El Greco and Toledo

Category:

Course, From £11.75

In focus: Francesco Pesellino

Category:

Lunchtime talk, Free

Mantegna's 'The Triumphs of Caesar'

Category:

Course, From £70.50

Stories of art: 1500-1600

The National Gallery's year-in-review quiz

Members' talk and Q&A

Category:

Creative session, Free

Meditative mark making

Reflect, restore and resolve

Category:

Course, From £11.75

Van Gogh and Hals: Out of time, but so modern

Category:

Creative session, Free

Shine bright like a Liotard

Take One Picture CPD - 2023/2024

Online sessions

Category:

Talks & conversations, Free

Pause with a painting

Claude's 'A Seaport'

Curator's introduction

Pesellino: A Renaissance Master Revealed

Category:

Creative session, Free

Friday Lates drop-in drawing

Light, tone and rhythm

Category:

Music & performance, Free

Friday Lates: Zubin Kanga

Earth of the Slumbering and Liquid Trees

Category:

Talks & conversations, Free

Friday Lates gallery tour

Frans Hals and his contemporaries

Category:

Talks & conversations, Free

Friday Lates tour and poetry readings

SJ Fowler

Category:

Lunchtime talk, Free

Pintoricchio's 'Penelope with the Suitors'

Reflecting on 'The Credit Suisse Exhibition: Frans Hals'

Members' talk and Q&A

Lunchtime concert

London Obbligato Collective

Audio Art: Utterly in the picture

Titian's 'The Death of Actaeon'

Category:

Lunchtime talk, Free

Jewish cultural philanthropists at the National Gallery

Category:

Creative session, Free

Talk and draw

Portrait of Joseph Brummer

Unexpected views

Sharon Walters

Category:

Course, From £47.50

What is an 'Old Master' painting?

Category:

Lunchtime talk, Free

The art of Renaissance Venice

Resonate: Sounds in the Gallery

Naomi Kimpenu

Category:

Course, From £35.25

The materials of empire: Liotard, trade, and empire in the 18th century

Unexpected views

Sharon Walters

February half-term

Decoding pictures

Category:

Creative session, Free

February half-term

Imagined stories

Listening to paintings: LGBTQI+ resonances in art history

Category:

Creative session, Free

Friday Lates life drawing

Brixton Life Drawing

Category:

Talks & conversations, Free

Friday Lates gallery tour

Mythological rage

Category:

Talks & conversations, Free

Friday Lates comedy performances

Art Laughs

Category:

Talks & conversations, Free

Friday Lates gallery tour

Biblical wrath

Category:

Talks & conversations, Free

Pause with a painting

George Stubbs'  'Whistlejacket'

Category:

Course, From £96

Painting with pastels

Portraiture course

Fully booked.

Category:

Creative session, Free

Talk and draw

The Triumph of David

Unexpected views

Rana Begum

Category:

Course, From £11.75

In focus: Raphael

Category:

Lunchtime talk, Free

Velázquez's 'The Rokeby Venus'

Category:

Course, From £70.50

Stories of art

1600-1700

Category:

Lunchtime talk, Free

Bassano's 'The Good Samaritan'

Category:

Course, From £11.75

Eva Gonzalès and the world and studio of the female artist

Category:

Course, From £11.75

In focus: Rembrandt