This is a YouTube video player. Below the video are the title, view time and description. Below that is a carousel of video thumbnails. Clicking a thumbnail will load and play that video.
In the National Gallery, there are many beautiful pictures that fight for our attention; from fertile landscapes to painstakingly detailed still lifes, emotive religious narratives to characterful portraits.
Nestled amongst some of the Gallery's finest portraits, in Room 12, is Moroni's 'Portrait of a Lady (or 'La Dama in Rosso')'.
Despite sharing the same space as some of the most iconic and imposing portraits in Western art (not least Holbein's 'Ambassadors', or his towering 'Henry VIII'), Moroni's 'La Dama in Rosso' ('Lady in Red') is unmissable.
Throughout our training period at the Gallery, we have noticed many visitors admiring Moroni's representation very closely. This woman is believed to be Contessa Lucia Albani Avogadro, the Italian noblewoman and poetess.
We have often wondered, what exactly prompts so many visitors to look at Lucia's picture so closely?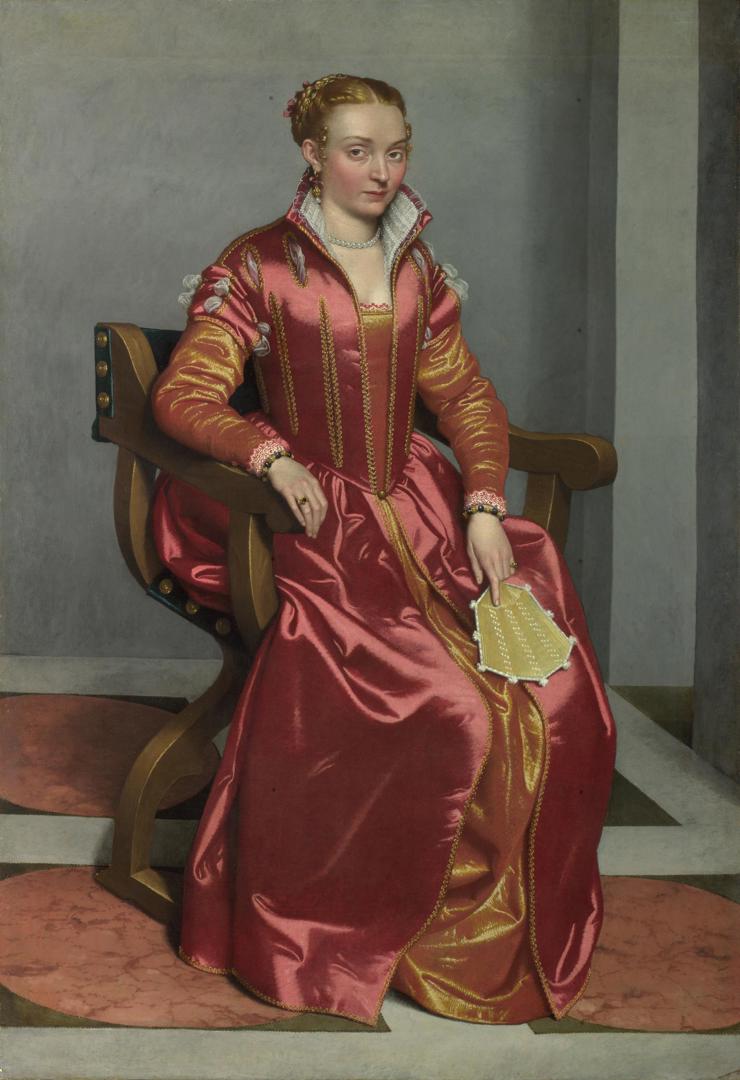 Perhaps, as the picture's popular name, 'The Lady in Red', suggests, it is the effect of the sumptuous scarlet satin robe Lucia wears which catches eyes and captivates attention. This garment is mirror-like in its sheen; a beautiful display of the techniques Moroni used to create naturalistic iridescence, emphasising the richness of the materials he represented.
The scarlet robe and gold underdress perfectly complements the soft blush of Lucia's cheeks and her golden blond hair. The fabrics indicate her affluence and social status, as does her ornate jewellery of gold, emeralds and pearls.
Much of what we know about Lucia is through her husband, Faustino Avogadro of Brescia, Northern Italy. This is the case with the biographies of many Renaissance women. Moroni's 'Knight with his Jousting Helmet' is believed to be a portrait of Faustino.
By researching the picture, we were delighted to discover that Lucia was an accomplished writer and poet, an intellectual force of her own. Her works were published, and she was celebrated among her contemporaries, including Giovanni Bressanone and Bernardo Tasso. Within her oeuvre was a collection of vibrant and youthful love poems, which were published posthumously. These poems reflected their author'sLucia's youthful vitality and hopefulness in love.
In Moroni's portrait of Lucia, she must have been about 24-years-old. We get a sense of her vivacity in the blush of her cheeks, as well as her somewhat obscure and evasive expression. However, Moroni does not include any objects that link Lucia with her identity as a poet. There is little to tell us about her personality or interests.
We wonder whether this was a conscious choice: to position Lucia as a woman of prestige due to birth and marital connection, or a misnomer?
We also wonder whether Moroni has allowed us to see Lucia's intellectual achievements and emotional life, as well as her physical beauty.
Alongside Lucia's literary life, another fascinating detail in her biography was the feud between the Albani family and their rivals, the Brembati, which resulted in Lucia and her husband's exile from Brescia to Ferrara. Soon after their forced relocation, they both died: Faustino from a fatal accident caused by drunkenness, and Lucia from tuberculosis, when she was just 34.
As Lucia wrote in one of her poems, 'Death extinguishes you in the blossoming age.'
The date of this portrait means that Lucia would only live for few years after Moroni captured her likeness in this painting.
The blossoming beauty of Lucia is heightened when considering her dramatic life, and her poetic successes. The garments often initiate interest, although they should not be the entire conversation about Lucia Albani Avogadro.
While Moroni captures our attention with his naturalistic display of texture and beauty, it is Lucia's evasive personality, her fascinating lifestyle and dramatic biography which opens our eyes to secrets hidden within the composition.
As we near the end of our time at the Gallery, and prepare for our upcoming secondments with partner institutions, we'd like to remember this lesson taught to us by Lucia: what you see isn't always what you get; we need to always look deeper and ask questions.
Digital activity at the National Gallery is supported by Bloomberg Philanthropies Digital Accelerator