This is a YouTube video player. Below the video are the title, view time and description. Below that is a carousel of video thumbnails. Clicking a thumbnail will load and play that video.
In the middle of wilderness, seemingly cocooned by the pallid promise of a storm, stands a lamb and a boy. 
It's hard to discern whether this interaction is one of chance. Their presence alone injects hope into their gloomy surroundings without, seemingly, intent. Yet somehow, I can't help but wonder if this is their first encounter. The lamb mirrors the child's innocence, and there's something endearing about the idea of a lamb seeking guidance from a boy who is no older than three or four.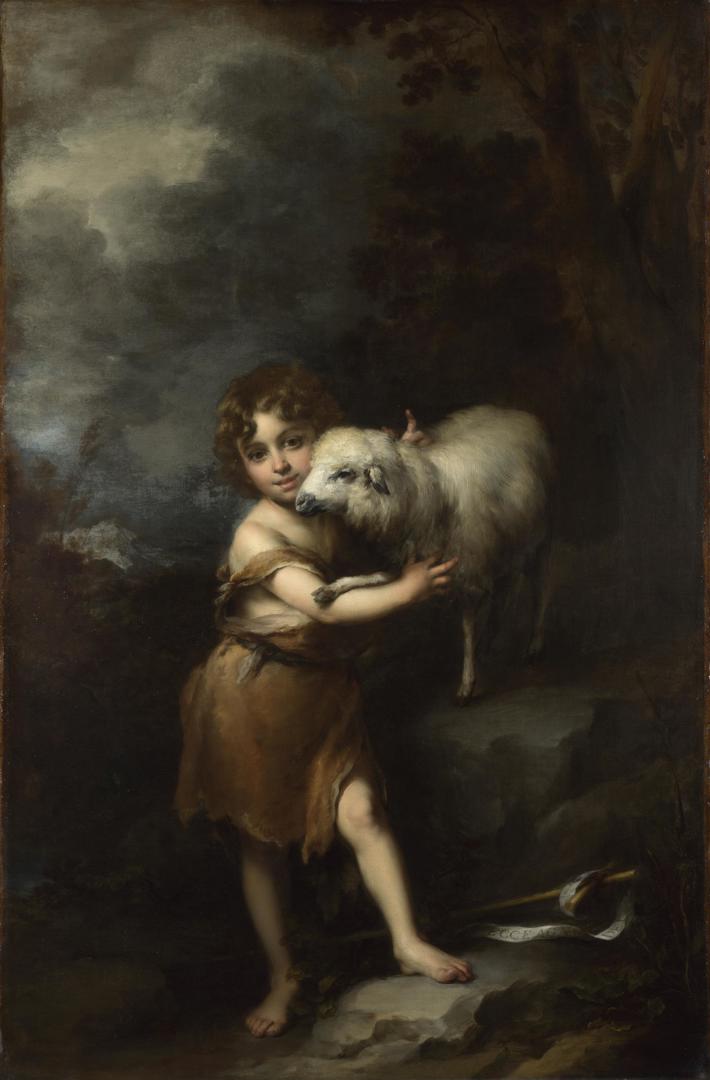 What I find particularly charming about this painting is the fact that it seems almost pre-biblical. The child is Saint John, who, in this case, is neither glorified nor portrayed as a messenger or baptist – as he will later become. Instead he is presented as a child with tender, hesitant touches, and a shaky, but distinct, point towards heaven. He does not seem phased in any way by the animal in his arms, and if anything, he seems to have submitted entirely to its grasp.
In contrast to their surroundings, the unlikely pair appear to glow softly in the darkness of the cowering trees. It makes me wonder whether this is what drew them to one another – after all, there is nothing but wilderness around them.
To the lamb, Saint John is a shepherd, young and without a cane, but still a pinnacle of guidance. And to John, the affectionate animal perhaps inspires hope for Christ (John later declares Christ 'The Lamb of God'). It is hard to tell, as John's wide-eyed dissociative gaze speaks more to us, the viewer, than it does to the animal in his arms.
We are told of the ascetic existence of Saint John in Matthew 3:4, 'John's clothes were made of camel's hair, and he had a leather belt around his waist. His food was locusts and wild honey.' That is, Saint John lived in and of the wilderness. However, Murillo's gentle yet powerfully focussed depiction of man and beast strips their interaction of its holy connotations for a brief second, showing the saint and the Lamb of God in a moment that is purely human and nothing else.
The intimacy of this scene and the magnetic way in which the two interlace makes me feel as if we should not be looking at them, or that we are privileged to witness them. After all, Saint John and Christ were maternal cousins. This is a tender, private moment. But the way that John is turned toward us, and presented on a pedestal of rocks, seems like Murillo is trying to say something more.
Is this embrace meant to be celebrated? Made into a symbol of Christ's own sacrifice? Or has the naïve quality of their interaction been robbed by its religious meaning?
Digital activity at the National Gallery is supported by Bloomberg Philanthropies Digital Accelerator