Hendrickje the lover
This painting is thought to show Hendrickje Stoffels, the woman who shared the second half of Rembrandt's life as his common-law wife (Saskia died in 1642).
The surface of this painting is very different from Rembrandt's earlier works. Some parts have been rapidly painted, with folds and fingers just sketched in. Yet Rembrandt considered it finished, signing and dating it in 1654. He didn't usually make oil sketches for larger compositions. This seems to be a painting in its own right, made on an intimate scale.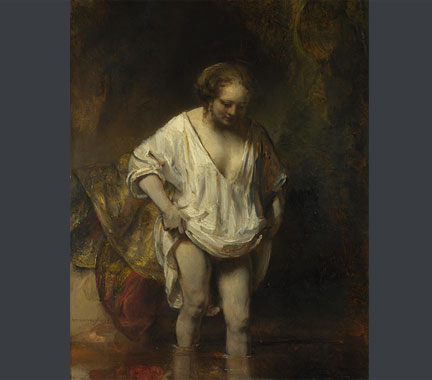 The richly-coloured robes discarded behind the figure might suggest that this woman is a Biblical heroine or a character from mythology. Or it could just be Hendrickje, dressing up for Rembrandt so that he could explore the reflection of colours in the water, and the way the light falls on her skin and dress.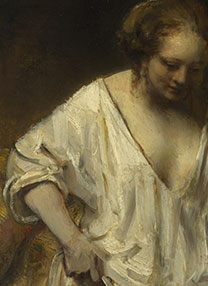 The painting may also have had more personal significance for both artist and model. In the year that it was made, Hendrickje suffered public humiliation because she was pregnant with Rembrandt's child, but was not married to him. Does this information change the way that you read this picture?
Despite such difficulties, Hendrickje would stay with Rembrandt for the rest of her life. Rembrandt continued to make innovative drawings, prints, and of course, paintings, exploring in particular the possibilities offered by the texture of oil paint.