Diana, the strong, beautiful goddess of hunting is a subject Titian chose for more than one painting in the 'poesie' series; not least because she embodies two of Philip II's favourite pursuits, women and hunting.
This is a YouTube video player. Below the video are the title, view time and description. Below that is a carousel of video thumbnails. Clicking a thumbnail will load and play that video.
1 video
Beautiful but deadly; hear more about Titian's retelling of Ovid's poignant stories of Diana in paint.
Bringing Diana to life
For each composition, Titian picks the key moment of action; the inciting incident when the victims' fate is sealed.
Both situations relate to sight: something that should be secret being seen. Actaeon unwittingly catches Diana plus entourage bathing, while Diana spies the supposedly chaste Callisto's pregnancy.
In both cases, Diana shows no mercy; changing Actaeon into a stag which his hounds devour and throwing poor Callisto out.
The way Titian has painted these scenes adds to the drama with loose and free swishes of paint, suggestions of trees, and dashes of white light.
Energetic brushstrokes match the rough movements of yanking clothing in the case of Callisto and Actaeon's awkward stumble backwards.
Acting as a pair, the paintings would have hung next to each other as we can see from the glistening stream that flows from one to another.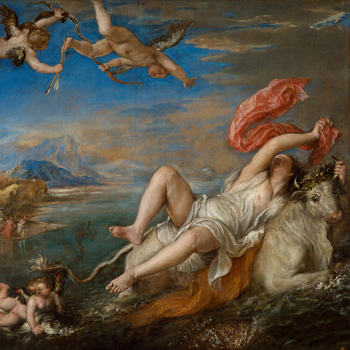 Everyone wanted paintings by Titian; we find out what made him so special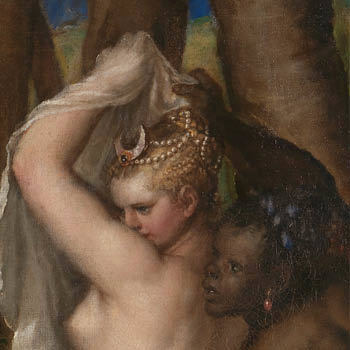 The most ambitious and magnificent works of his career