Early life
Philip Anstiss Hendy was born in 1900 in Carlisle. After being educated at Westminster School, he studied history at Christ Church, University of Oxford. Hendy graduated in 1923, after which he was appointed Lecturer at the Wallace Collection (London).
Early career
In 1924 Hendy became Assistant Keeper at the Wallace Collection, and specialised in French painting and the decorative arts (such as François Boucher, Jean-Honoré Fragonard, and Jean-Antoine Watteau). In his first publication, 'Hours in the Wallace Collection' (1926), Hendy revealed an early interest in modern painting and the study of formal qualities of colour, line, light, and composition, but also an unfailing passion for 'great masters' such as Titian, Rubens, and Rembrandt. This visual understanding of pictures and the artistic exchange among artists remained a lifelong source of study, and prefigured his later career at the National Gallery.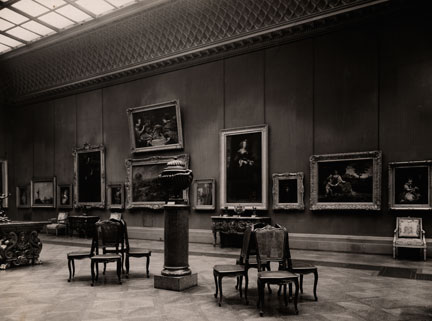 Move to the US
Based on the strength of the Wallace Collection catalogue, the Isabella Stewart Gardner Museum in Boston granted Hendy a three-year scholarship to research its collection in Florence, Italy. Upon his return to the US, Hendy became Curator of Paintings at the Boston Museum of Fine Arts (1930–33) for whom he bought many Impressionist and Post-Impressionist works. Although Hendy resigned from this post in 1933 to take up the directorship of Leeds City Art Gallery, he often expressed admiration for American museums as exemplary models for antiquated British art galleries. Correspondence at the National Gallery Archive also suggest that Hendy befriended American museum officers across the US, some of them members of the Monuments Men mission to salvage artworks during the Second World War (George Stout, James Rorimer, and Mason Hammond).