Rethinking the Gallery

The post-war reconstruction of the National Gallery was carried out by the Ministry of Works (MoW), a government department formed in 1943. While the east wing had been speedily reopened, the west wing of the National Gallery remained closed for many years due to severe war damage caused by nine bombs during the Blitz. The rebuilding effort in this part of the building led to the creation of six experimental galleries (1946–1956), and introduced a new script based on simple design, intimate spaces, and visitor comfort. Raised floors and lowered ceilings created a more domestic scale, while cork flooring possessed a soft quality that enhanced the pleasure of picture-gazing. In some galleries, individual lightweight chairs replaced heavy benches and allowed visitors to have closer and more private encounters with the paintings. Most innovative of all was the installation of air conditioning which routinely changed the air, ensuring visitors would feel refreshed and that paintings would be well preserved.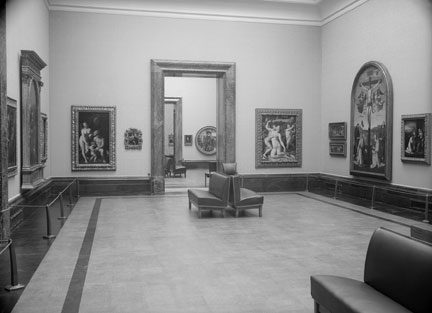 The Gallery became geared towards the public, making galleries more familiar and friendly for visitors, in direct contrast to the grandeur of old galleries. The same ethos inspired the reorganisation and growth of the Publications Department after 1949. The main stall in the Vestibule was altered to give more space for stock display and enable quiet examination by the public. In the same year, the 'schools scheme' anticipated the future of outreach programmes, circulating colour prints of Old Masters to schools for a small fee. This use of reproductions served to connect the Gallery with new and young audiences.
By the early 1960s, it was clear to Hendy that public relations had to become an integral part in the daily management of National Gallery if it was to live up to the demands of a modern institution. Further improvements on this front culminated in the foundation of the Education Department in the 1960s, and the refurbishment of the restaurant, offering a quality of service that would meet visitor expectations. These developments reflected a new awareness that picture-gazing partook of a wider social experience and that the Gallery ought to make provision for alternative forms of leisure. In this way, Hendy anticipated the contemporary idea of the museum we have today.