One building, two art galleries
The Royal Academy of Arts was also housed in the new National Gallery building at Trafalgar Square. In 1869, the Royal Academy moved into its own new building in Piccadilly, leaving extra space for the National Gallery.
Find out more about The Royal Academy of Arts [external link]
A new wing and a dome
There was a lot of public criticism of the National Gallery's building and in 1869 the architect E.M. Barry was asked to submit designs for rebuilding the entire Gallery at Trafalgar Square.
After much discussion, it was decided that the existing building should remain, and a new wing should be added. This was completed in 1876, and added seven new exhibition rooms at the east end, including the impressive dome.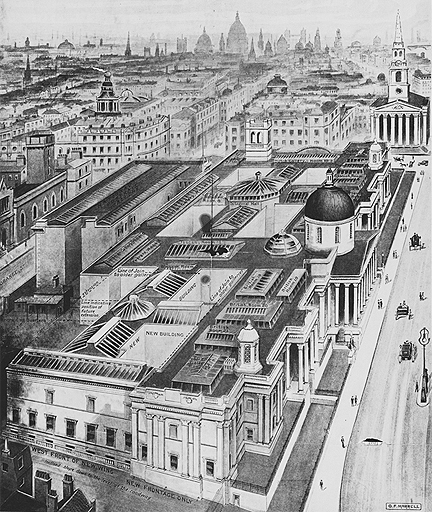 Five new galleries
The Trustees had to battle for a long time to secure expansion space for the National Gallery. The site in central London was very constrained. Eventually, in 1907, barracks at the rear of the Gallery were cleared and work began to construct five new galleries.
Next: The Sainsbury Wing