The Sainsbury Wing
In 1985 Lord Sainsbury of Preston Candover and his brothers The Hon. Simon Sainsbury and Sir Timothy Sainsbury generously agreed to finance the construction of a new wing for the Gallery.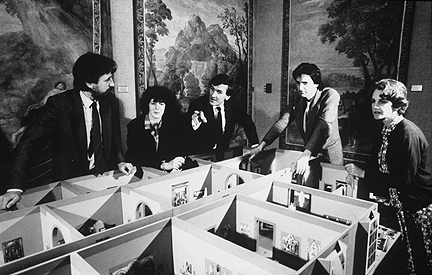 The new wing opens
A site next to the Gallery had been vacant since the Second World War, when a furniture shop was destroyed by bombing. The new Sainsbury Wing was opened in 1991, to display the entire early Renaissance collection.
This followed on from the Northern Extension, which opened in 1975, providing considerable extra exhibition space: nine large rooms and three smaller 'cabinet' rooms. These new galleries made use of natural lighting as far as possible.
The Sainsbury Wing was added to the National Heritage List for England (Grade 1) in 2018.
The Gallery today
Following the completion of the Sainsbury Wing, the Gallery has a total floor area of 46,396 metres squared - equivalent to around six football pitches. It would be big enough to hold over 2,000 London double-decker buses.