The first paintings
In April 1824 the House of Commons agreed to pay £57,000 for the picture collection of the banker John Julius Angerstein. His 38 pictures were intended to form the core of a new national collection, for the enjoyment and education of all. The pictures were displayed at Angerstein's house at 100 Pall Mall until a dedicated gallery building was constructed.
The size of the building – Angerstein's house – was compared unfavourably with other national art galleries, such as the Louvre in Paris, and ridiculed in the press.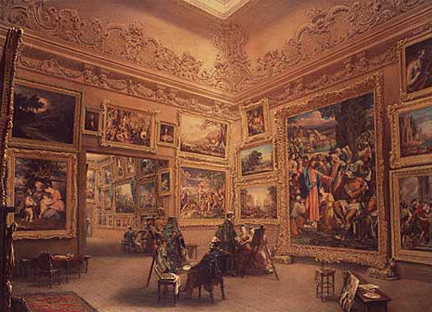 A new home
In 1831 Parliament agreed to construct a building for the National Gallery at Trafalgar Square. There had been lengthy discussion about the best site for the Gallery, and Trafalgar Square was eventually chosen as it was considered to be at the very centre of London. The new building finally opened in 1838.
Next: A Gallery for all