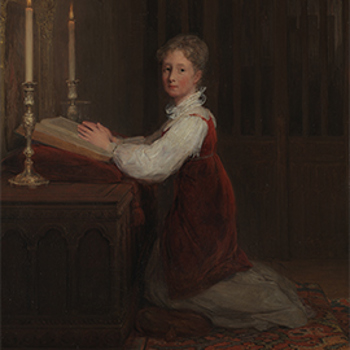 Wilkie's Young Woman kneeling at a Prayer Desk
The generosity of art teacher Marcia Lay secured this masterpiece for the nation
A painting by Scottish artist Sir David Wilkie, thought to be lost for more than 140 years, was purchased for the nation thanks to a legacy from Birmingham art teacher Marcia Lay.
A Young Woman kneeling at a Prayer Desk was discovered in the USA after last being heard of in 1872, when it was put up for sale by a relative of the 1st Earl Mulgrave. It is thought his daughter – Lady Augusta Phipps, who died in 1813 aged just 12 – is the subject of the painting. The work was known to exist because it had featured in an oil sketch, 'Display of Eight Paintings', that the artist sent to his brother, Captain Wilkie, an army officer in India.
The National Gallery was able to purchase this painting thanks to Marcia Lay, who taught at Lordswood Girls School, Harborne, for more than 20 years. She died in June 2012, leaving a generous gift in her will to the National Gallery, and this fully funded the purchase of the painting in Legacy Awareness Month 2014.
Then Culture Minister, Ed Vaizey, said of the acquisition:
"This is a fantastic example of legacy giving and one that I hope will inspire others to do the same. Thanks to the wonderful generosity of Marcia Lay, this beautiful painting will be seen and enjoyed by a huge audience for the first time, so helping to ensure that her name – and her gesture – is celebrated for generations to come."
Wilkie is often called the first truly international British artist, and 'A Young Woman kneeling at a Prayer Desk' enhances the National Gallery's collection of British painting in the 19th century by artists who have themselves been highly influential in the development of European painting. It also further emphasises the great inspiration which British painters of this period drew from the Old Masters.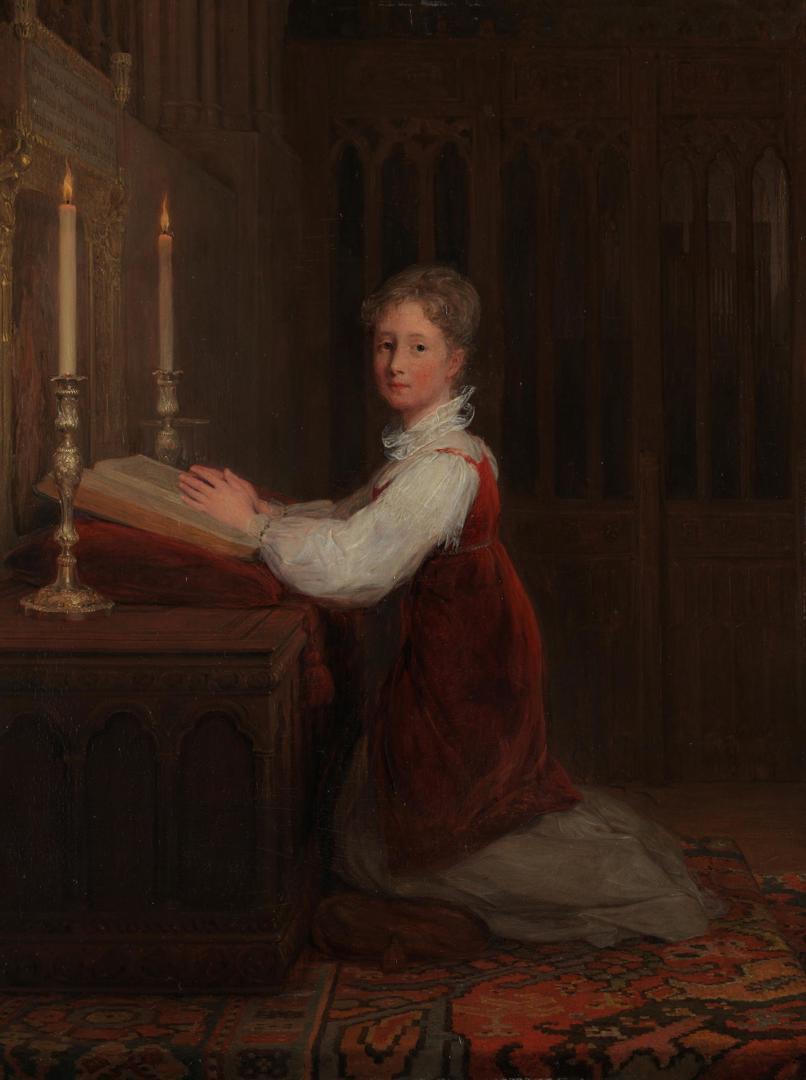 If you are inspired by Marcia Lay's incredible generosity and the National Gallery, perhaps you would consider remembering us in your will. A gift of any size, large or small, will have a lasting impact on our work and help to develop and maintain the collection, keep the Gallery free, and continue enriching the lives of future generations.
Download our information booklet
To discuss what your support could achieve, please contact Meredith Loper in the Development Office on 020 7747 5137 or by email at: Meredith.Loper@nationalgallery.org.uk