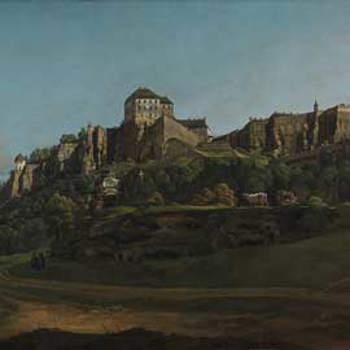 Bellotto's Fortress of Konigstein from the North
Saved for the nation and on display in perpetuity.
Bellotto's works are among the very greatest of 18th-century view paintings, and The Fortress of Königstein from the North is undoubtedly one of the finest examples. It stands out as a highly evocative and beautiful depiction of a fortified location within an extensive panoramic landscape, and has no real parallel in European painting.
If Bellotto was once overlooked in favour of his more famous uncle, Canaletto, today he is recognised as one of the most distinctive artistic personalities of his century. The acquisition of this masterpiece by the National Gallery cements Bellotto's reputation with both British and international visitors, giving him a significant place on the walls at Trafalgar Square that is long overdue.
The National Gallery is very strong in 18th-century view paintings, however almost all of our works are of Italian sites. Bellotto's 'The Fortress of Königstein from the North' is the first major 18th-century landscape at the National Gallery to depict a Northern European view, and so this acquisition creates a bridge between Northern and Southern European painting in the collection.
The £11,670,000 acquisition has been made possible thanks to two generous legacies from Mrs Madeline Swallow and Mrs Mollie W. Vickers together with donations from individual donors, trusts, and foundations.
The vast (132.1 x 236.2 cm) panoramic painting which depicts the Fortress of Königstein, near Dresden and is one of a series of five large-scale views of the ancient hilltop fortress commissioned by Augustus III, King of Poland and Elector of Saxony, in about 1756. Here, the fortress is seen perched atop a crag, its fortifications providing an imposing contrast to the verdant landscape that surrounds it, in which peasants talk and work. Bellotto combines topographical accuracy in the fortress with pastoral invention in the figures. Imbued with a monumentality rarely seen in 18th-century Italian view painting, 'The Fortress of Königstein from the North' dramatically illustrates the very different direction in which Bellotto took the Venetian tradition of the 'veduta'.
If you are inspired by this story, the generosity of the late Mrs Madeline Swallow and Mrs Mollie W. Vickers, and the National Gallery, perhaps you would consider remembering us in your will. A gift of any size, large or small, will have a lasting impact on our work and help to develop and maintain the collection, keep the Gallery free, and continue enriching the lives of future generations.
Download our information booklet
To discuss what your support could achieve, please contact Meredith Loper in the Development Office on 020 7747 5982 or by email at: Meredith.Loper@nationalgallery.org.uk