The identity of the sitter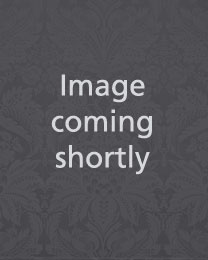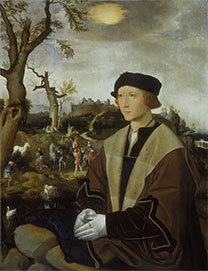 A. J. Wauters proposed, on the basis of unconvincing comparisons with other portraits, that the sitter was Gossart's patron Philip of Burgundy (1465–1524), Bishop of Utrecht.6 The only indications of the man's identity are his clothes, which are unusual but so similar to those of men in two portraits attributed to Mostaert (Brussels and Liverpool: figs.22, 23) as to suggest that all three are wearing official dress of some kind.7 Their doublets are open at the neck and lined with materials of contrasting colours; they wear low-necked garments over their doublets and under their gowns; their gowns are all fur-lined, with hanging sleeves and turned-back fur collars that hang like capes across their backs. Though similar in construction, their clothes differ in colour. The doublets are crimson velvet in the Brussels and Liverpool portraits, purple satin(?) in NG656; the intermediary garments are brown in Brussels, dark grey in Liverpool and black in NG656; the gown is dark grey in Brussels, brown in Liverpool and black in NG656; the fur linings are spotted (lynx?) in Brussels and Liverpool but plain brown in NG656. The Brussels and Liverpool sitters have hats and gloves, whereas in NG656 the sitter has removed his hat and gloves, perhaps because he confronts directly the object of his devotion.
The Brussels sitter has been plausibly identified as Abel van Coulster (1477–1548), councillor at the Court or Council of Holland, Zeeland and West Friesland from 1506 until his death.8 It is possible that the Liverpool and London sitters are also officials of the Council of Holland – or possibly another Council – and that their different offices are indicated by the differing colours of their robes.9
Further Sections
The identity of the sitter
6. Wauters 1902, cited in the catalogue of the Rotterdam-Bruges exhibition, 1965, pp. 159–60. Wauters compared the drawing of Philip in the 'Recueil d'Arras' (Bibliothèque municipale, Arras, MS 266, fol. 98). For the Arras drawing, see Sterk 1980, fig. 4; Châtelet and Paviot 2007, pp. 275, 279. For other portraits of Philip, on coins, see Sterk 1980, figs 48–9.

7. Friedländer, vol. X, nos 35, 38; and see the remarks by Stella Mary Newton quoted in 'Walker Art Gallery Liverpool, Foreign Catalogue', Liverpool 1977, p. 136. Also similar are the clothes worn by the donor presented by Saint Peter in a wing panel of about 1520–2 in Brussels, attributed to Mostaert. The donor is identifiable as Albrecht Adriaensz van Adrichem (c.1470–1555), a gentleman of Haarlem, who had earlier commissioned from Mostaert the 'Oultremont Triptych' of the 'Descent from the Cross', now also in Brussels. See Jan Piet Filedt Kok in the exh. cat. Rotterdam 2008, pp. 169–72.

8. For the identification, see Thierry de Bye Dólleman 1963, p. 136; for the life of Abel van Coulster, see De Ridder-Symoens, Illmer and Riddenkhoff 1978, p. 176.

9. For the principal officials, see de Blécourt and Meijers 1929, pp. XXIV-LIX.