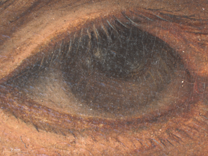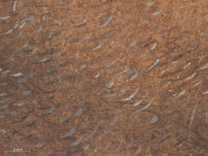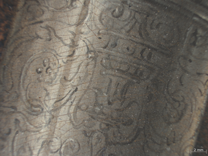 Description
The man, who has grey hair and brown eyes (see fig.13 left, and photomicrograph m2 in Image Viewer) and who is rather inefficiently shaved (fig.14), wears a black cap with lappets that have been turned up and buttoned to the crown of the cap. The hat-badge is a cameo, framed in gold and showing a young man and a young woman, both nude (fig.15). Standing in front of a tree, they are embracing. The youth may be wearing a wreath and holds a staff in his right hand; the young woman holds a cornucopia in her left hand. They could be Mercury and Fortuna (or Tyche), whose emblem was a cornucopia: they are the gods of trade and prosperity.6 Alternatively, they could be Mars and Venus. Her billowing veil is reminiscent of the headdress of Gossart's 'Venus' (Brussels);7 and in a painting of 'Mars, Venus and Cupid', by a follower of Gossart, Mars holds a cornucopia.8 From the man's hat hang two dark grey or black ribbons. Over a white shirt he wears a black garment tied at the neck with an elaborate lace. Over that is a grey or black doublet, complicated in its structure and lined in red. His gown, lined and trimmed with brown fur, is purple; and he holds a brown, presumably wooden, staff, its head encased in silver engraved with patterns in the grotesque style (fig.16).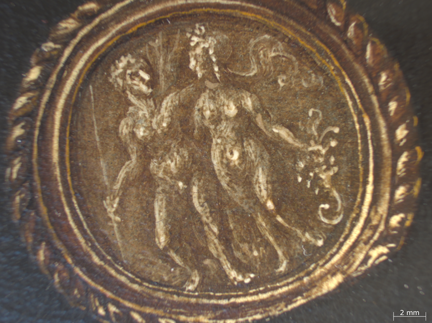 The woman, whose eyes are grey (see fig.17 below, and photomicrograph m31 in Image Viewer) and who has brownish hair on her upper lip (fig.18), wears a white veil held in place with two golden pins (touched out by a restorer) and a black dress lined with brownish fur.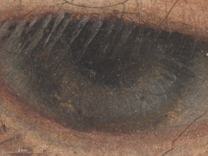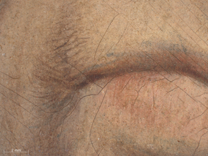 Further Sections
6. Hackenbroch 1996, pp. 260–1.

7. Friedländer, vol. VIII, no. 44.

8. Wetzlar sale, Sotheby Mak Van Waay, Amsterdam, 9 June 1977, lot 121; Friedländer, vol. VIII, no. 46.