The identities of the sitters
If NG1689 is indeed the portrait offered for sale in 1810 (See Provenance), the sitters were then identified as 'Foger and his wife', members of the Fugger family, wealthy bankers of Augsburg. The inscriptions on the version sold in Edinburgh in 1917 and apparently dated 1559 identify the sitters as Catherine Ferris and Richard Ferris, MD, presumably the man of that name who by 1522 was a member of the Barbers' Company of London, who served Henry VIII and Elizabeth I and who died in 1566.9 Holbein included his portrait in his 'Henry VIII and the Barber-Surgeons' (now with The Worshipful Company of Barbers, London), painted shortly before Holbein's death in 1543: Ferris is the man on the extreme right in the front row; he was added at a late stage in the evolution of the composition and bears no resemblance to Gossart's old man.10 As Gossart's portrait may be dated to the 1510s, the old man must have been born in about 1445, decades before Ferris. Ferris's wife was not Catherine but Emma Wisdom, whom he married in 1542 and who survived him.11 The inscriptions on the Edinburgh version can be dismissed as baseless invention.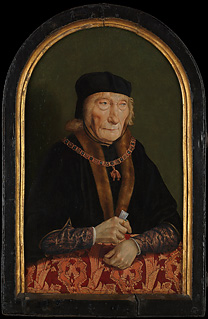 The only indications of the sitters's identities are provided by their clothes. The man's hat-badge, which may never have existed in reality and was probably created by Gossart, may nonetheless suggest that he took an interest in classical antiquity. His silver-topped staff and his fur-lined purple gown show that he is prosperous. The cap, with its two trailing ribbons, is of a type found fairly frequently in North Netherlandish portraits;12 it was perhaps a North Netherlandish fashion to wear such hats, which might conceivably have come to denote a certain status (fig.19). The woman's veil and dress are very similar to those worn by Maria van Snellenberg in a double portrait of her and her husband Dirck Borre van Amerongen (Rotterdam: fig.20). It is attributed to the Master of the Amsterdam Death of the Virgin and was probably painted in Utrecht in about 1515.13 Such evidence may suggest that NG1689 was painted in the northern provinces of the Low Countries, which, given the established facts of Gossart's biography, is in any case probable.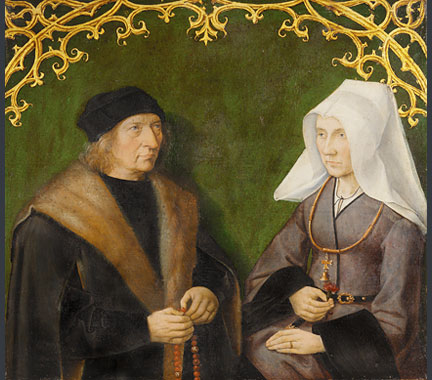 Further Sections
The identities of the sitters
9. Young 1890, p. 524.

10. Strong 1963, p. 8.

11. Guildhall Library, London, MS 4448, register of St Stephen Coleman Street, 6 July 1542 (Emma's father was a painter, John Wisdom); will of Richard Ferris, proved 22 April 1566, NA, PROB 11/48, 9 Crymes.

12. Compare the portrait of Jan I, Count of Egmond, who died in 1516, attributed to the Master of Alkmaar (New York); Pieter Jan Foppesz. in Heemskerck's group portrait of him and his family, painted in c.1530 (Kassel); the portrait of Aert van der Goes, Advocate of Holland, dated 1541, in the style of Heemskerck (van der Goes collection, Wassenaar); the portrait of Cornelis Aertsz. van der Dussen, attributed to Scorel (Berlin); or the portrait of Jan Diert attributed to Heemskerck (Museum Catharijneconvent, Utrecht). A possible instance of a South Netherlander wearing such a hat is found in Joos van Cleve's portrait of an unidentified man, dated 1526 (Kassel). For reproductions, see Friedländer, vol. X, no. 59; vol. XII, no. 383; Fölting 1973, p. 315; Friedländer, vol. XII, nos 351, 353; vol. IX, no. 119.

13. Friedländer, vol. X, no. 153; J. Giltaij in exh. cat. Rotterdam 1994, pp. 274–7.