Jan Gossaert (Jean Gossart)
NG2211
A Young Princess (Dorothea of Denmark?)
Oil on oak panel, 38.2 x 29.1 cm
Inscriptions, provenance, exhibitions and version
Inscriptions
On the jewel pinned to her breast are the letters: .../IHESVS/M(ARIA?)... N.E..../...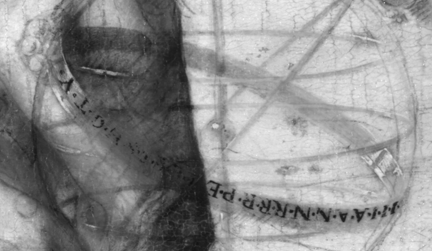 On the armillary sphere are the letters: •I•I•A•A•N•N•R•R•R•P•E•E•E•S•S•S•(H?)•G•T•Y (fig. 1). This may be an anagram of the artist's name IENNI[N] G[O]SSART PAI[NT]RE:1  the letters R E S (H?) Y remain to be explained.
Provenance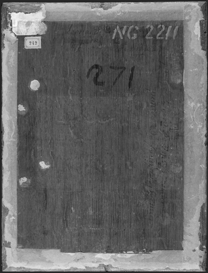 On the reverse are inscriptions in French written in an eighteenth – or early nineteenth – century hand: the portrait was evidently in France in about 1800 (fig. 2).2 It was possibly in the collection of Major General Sir Burges Camac, who joined the army in 1800 and died in 1845.3 He seems to have been an enthusiastic collector of pictures and sold at Christie's in London on 23 June 1838, lot 80, 'J. de Maubeuge, Portrait of a Princess of Burgundy in a rich dress'. It was sold for £20 9s. 6d. to John Rushout (1770–1859), 2nd Baron Northwick.4 At the Northwick sale, by Phillips at Thirlestaine House, Cheltenham, lot 1456 on 18 August 1859, 'HOLBEIN (SCHOOL) Portrait of a Lady'', was sold to Sir Edmund Anthony Harley Lechmere (1826–1894), Bart, who certainly owned NG2211 in 1882.5 He lived at The Rhyd in Worcestershire. The portrait was among pictures sold by his son Sir Edmund Arthur Lechmere (1865–1937), Bart, at Christie's on 27 April 1901 (75), when it was bought by Pottier. It passed to the Belgian critic Léon Gauchez (1825–1907), who used the pseudonym Paul Leroi and lived in Paris.6 After his death, his collection was sold at the Hôtel Drouot on 16 December 1907; NG2211 was lot 29 and was bought by Agnew. It was purchased in 1908, from Agnew's, at cost price, out of the Clarke Fund.
Exhibitions
Worcester 1882 (Old Masters 87); Bruges 1907 (68); Rotterdam-Bruges 1965 (19); NG 1975 (17); London V&A 1980 (P2); NG 2008–9 (29); New York 2010–11 (57); NG 2011 (57).
Version
A simplified copy of the head and shoulders was in 1994 with Borgia Interiors. It is painted on an oak panel; measuring 25.4 x 20.8 cm, it would seem to be rather badly damaged and is of uncertain date.7
Further Sections
Inscriptions, provenance, exhibitions and version
1. On 12 September 1532, Gossart signed a quittance 'Jennin Gossart painter': see Steppe 19651, p. 36 and the facsimile on the back cover of the Rotterdam-Bruges exh. cat.
2. For the inscriptions, see
Technical notes
. Since Francis I is described simply as 'françois premier', it seems likely that the writer was a Frenchman rather than a Netherlander.
3. 'Army Lists' 1845, p. 27 (116); 1846, p. 551; will dated 2 November 1844 proved in the Prerogative Court of Canterbury on 4 December 1845: NA, PROB 11/2027.
4. Information kindly sent by Lynda McLeod, Christie's Archives, email of 6 October 2009.
5. He lent it to the Worcestershire Exhibition in that year. For the Lechmere family, see Shirley 1883.
6. Laclotte et al. 1989, p. 256; Ingrid Goddeen, 'De Belgische kunst-handelaar Léon Gauchez (1825–1907), een tijdgenoot van Siegfried Bing', 'Musées royaux des Beaux-Arts de Belgique, Bulletin', 1/2010, pp. 212–29.
7. Photograph at the National Gallery.