Arriving at the National Gallery for the first time, I was awed by the paintings on display. Most of the works were unfamiliar to me, so to be exposed to these 'new' images was a joy as I made my way through the different rooms, learning about the artists.
As I approached 'A Roman Triumph' by Peter Paul Rubens, the first thing that struck me was the difference in atmosphere at the two ends of the painting. The people on the left appear solemn and severe in comparison to those on the right, where there's a sense of energy and grandeur.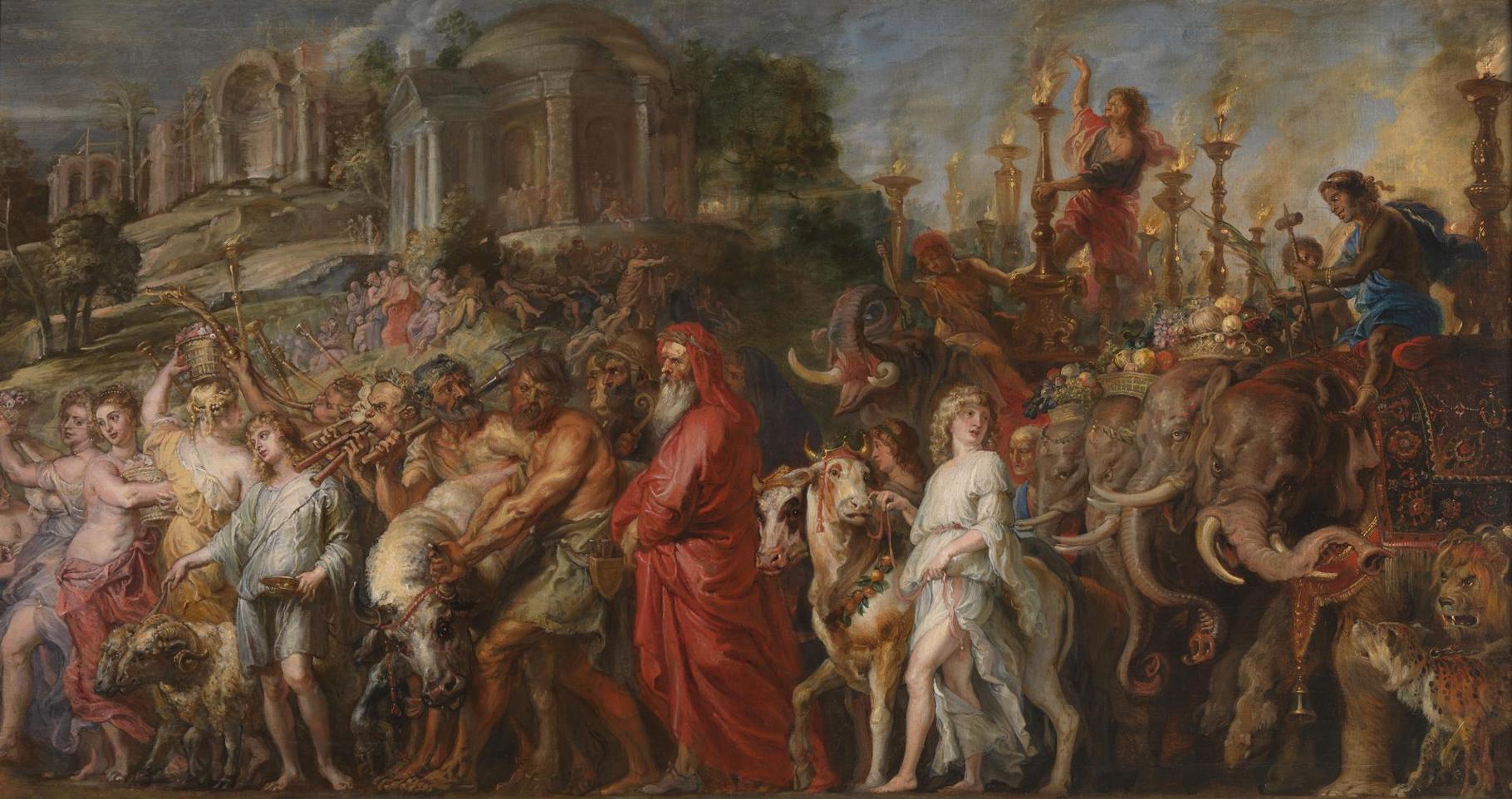 The picture shows a triumphal Roman procession that is based on Mantegna's monumental canvases of the 'Triumphs of Caesar' which were painted for the Duke of Mantua in the late 15th century. Mantegna depicted Caesar and his followers (and their fantastical spoils) on their way back to Rome from various victories. However, Rubens's interpretation removes any mention of Caesar, instead bringing to life the celebratory nature of the procession.
I was drawn to the figures with darker complexions riding elephants. They could possibly be Numidians (an ancient kingdom in northwest Africa), who Caesar encountered in Africa. I thought the elephants symbolic because in many African cultures, elephants are revered as symbols of strength and power. This is similar to India and Thailand, where elephants are often associated with wisdom, strength and intelligence.
In this painting, we also see burning torch flames. Flames commonly represent wisdom and knowledge in many cultures which, as I see it, can also be applied here. Flames remind me of the theme of Black History Month, which aims to spread knowledge of diverse cultures that come from within a larger Black community.
Black History Month is important as it invites everyone the opportunity to share, celebrate and acknowledge the contribution that the Black community brought to the United Kingdom, just as the people of colour ride into Rubens's 'Roman Triumph' in jubilation and pride.
Rubens gives us a celebration of many different cultures, yet the people of colour in this picture seem to me the 'motor' of this procession, pushing the rest along, which reminded me that even in times of difficulty, or of 'Roman' dominance, there is no wrong time to honour (and celebrate) the crucial medley of difference and unity.
Digital activity at the National Gallery is supported by Bloomberg Philanthropies Digital Accelerator

Race and representation tour