National Gallery Collection
The Corot panels are both illustrations of a popular theme and decorative panels painted for a particular interior. The collection holds a number of other paintings which, while treating a wide range of subjects, from religious to mythological to portraiture, were painted for specific interiors, or were designed as functional domestic objects. 
In Renaissance Italy, 'spalliere' were painted panels designed to be set into a wall as part of a room decoration. Botticelli's two spalliera panels, Four Scenes from the Early Life of Saint Zenobius and Three Miracle of Saint Zenobius were probably made as part of domestic decorations for a patrician family in Florence, perhaps commissioned for a marriage. They show episodes from the life of Saint Zenobius, first Bishop of Florence, including his baptism, consecration as Bishop of Florence, and three of his miracles: his exorcising of two sons visited with devils because of their mother's curse; his resurrection of a dead boy; and his restoring of a blind man's sight. The linear structure of the narrative scenes set side by side with no divisions is typical of decorative panels of this period.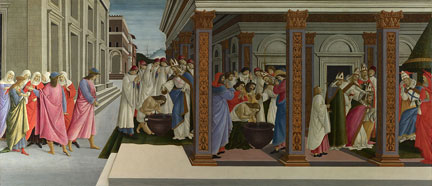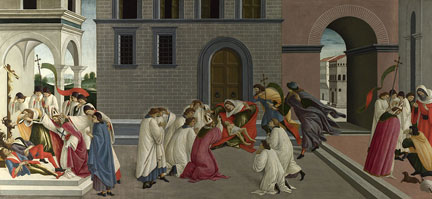 Renoir's Dancing Girl with Castanets and Dancing Girl with Tambourine were painted as decorations for the dining room of the Parisian apartment belonging to a successful industrialist and one of Renoir's most important patrons, Maurice Gangnat. The girls were originally intended to be shown bearing baskets of fruit, and were to be hung either side of a fireplace surmounted by a mirror. The model for both was a dressmaker, Georgette Pigeot, with the head of Renoir's maid, Gabrielle Renard, used for that of 'Dancing Girl with Castanets'. The figures, with their exotic costumes, are inspired by the work of Delacroix, particularly his Oriental scenes. Unlike Corot, who painted his panels quickly and seemingly without any preparation, Renoir made a number of preparatory drawings and sketches, including two full-size red chalk drawings which he transposed onto the canvases.