Leighton House
The panels passed from the collection of one artist to another. On 22 August 1860 Decamps died from a fall from his horse while out riding in the Forest of Fontainebleau. In January 1865, his paintings and collection were sold in Paris; these panels were bought by the dealer Alfred Cadart, from whom they were bought later that year by Frederic, Lord Leighton, who was among the first British collectors to buy Corot's work.
Leighton had lived in Paris for a period from 1855, and had met both Decamps and Corot, and it is possible that he had seen the panels in situ in Decamps's house. In 1864 he commissioned the architect George Aitchison to design a new home and studio in Holland Park, London (Leighton House). It was completed in 1866. He bought the panels with the express intention of displaying them in the drawing room, whose colour scheme of blue floor, brown walls, and curtains of greens, browns, and cream was designed around their colouration. They were hung, on either side of a recessed window, with other landscape paintings by French and British artists, including a further painting by Corot, Evening on the Lake, also now in the Gallery's collection.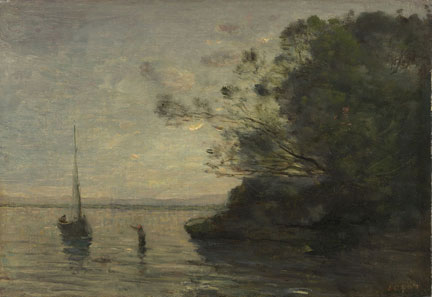 Such meditations on the beauty of nature set into this artfully arranged setting would have left a lasting impression on Leighton's many visitors, and by the time of his death and studio sale in July 1896 the importance of the panels was universally recognised: "The Corots deserve a place in the National Gallery, and if any millionaire should care for Corot, Lord Leighton, England, or art, he could not do better than present them to the nation".3 They were bought by the dealer Agnew, from whom they were bought by Robert James Loyd-Lindsay, 1st Baron (Lord) Wantage (1832–1901).
3.
Robert Alan Mowbray Stevenson, 'The Leighton Sale', Pall Mall Gazette, 8 July 1896