Longford Castle
Longford Castle, on the banks of the River Avon south of Salisbury, was purchased by the Des Bouverie family in 1717. The family had a mercantile background, but became wealthy landowners over the course of the 18th century. The first major art collector within the family was Sir Jacob Des Bouverie, who was ennobled in 1747, becoming 1st Viscount Folkestone. He passed the castle and collection on to his son, William, who became 1st Earl of Radnor in 1765.

The collection at Longford was enjoyed by visiting artists, such as Thomas Gainsborough, who came to stay in 1773 to study works by David Teniers, among other artists, and to paint portraits for the family. Guidebooks for tourists to Longford often focused on the famous works by Claude and Hans Holbein the Younger, as well as the fine furniture collection. 
Patronage and purchases
Sir Jacob's first significant art acquisition took place in April 1737. He bought two landscapes by Gaspar Dughet, pupil to the eminent French painter, Nicolas Poussin. These were purchased at Haye's Sale, one of the many London art auctions from which the family bought works of art over the years. He also acquired items through picture dealers, such as Arthur Pond. During the 18th century, contemporary artists also received commissions from the family, including the sculptor Henry Cheere who created chimneypieces for Longford.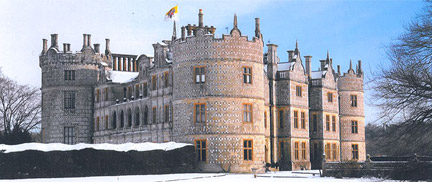 Displaying art at Longford Castle
The fine art acquired during the 18th century was housed in Longford Castle, then essentially an Elizabethan structure. However, some refurbishment was undertaken to ensure the interiors matched the standards of the artworks on display. In 1740, almost £170 was spent on green damask to provide a suitable backdrop to the paintings in the Picture Gallery.
In the late 18th and early 19th centuries, further architectural changes were planned for the castle. While not all of them were carried out, they indicate that the family was thinking carefully about how best to display their art collection. For example, unexecuted plans for top-lighting in the Picture Gallery were considered. Top-lit galleries, where natural light enters from the ceiling, were later developed by public art museums in the early 19th century, so the discussion of their use in a private home at this time was pioneering. They can still be seen at the National Gallery today, as can some of the artworks from the Longford collection that have been sold or loaned to the Gallery over the years. Three paintings were sold in 1890; a further painting was sold in 1945.